Fairfax to buy Toys 'R' Us Canada
The bid will keep the retailer's Canadian subsidiary and 82 stores up and running.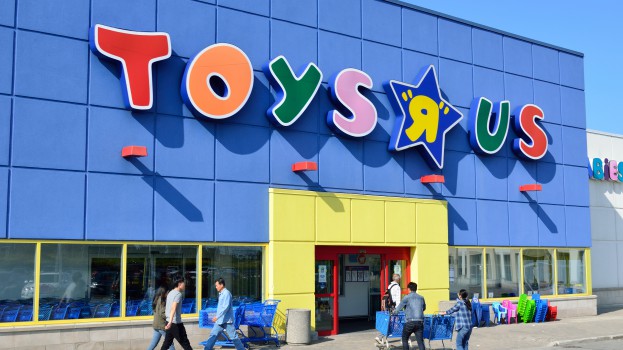 Toys "R" Us will be allowed to continue to operate in Canada following a takeover bid from Fairfax Financial.

Fairfax made a $300 million bid on Friday to buy the toy retailer's Canadian subsidiary, giving other potential buyers until Monday morning to offer competing bids. None were filed, and the parent company cancelled an auction for its operations in Canada.

If approved today by the U.S. bankruptcy court, Fairfax will be able to separate Toys "R" Us Canada from its U.S. parent company and continue to operate its 82 retail locations.

Fairfax is a Toronto-based financial holding company that has made inroads in the Canadian retail market in recent years, including buying ownership stakes in restaurant operator Cara, as well as athletics retailers Sporting Life and Golf Town. Fairfax (along with CI Investments) acquired Golf Town from its U.S. parent company in 2016 as it sought creditor protection. Last year, Fairfax and Sagard Holdings acquired the assets of Performance Sports – which include hockey brands Bauer, Mission and Easton – in a deal that was also conducted in bankruptcy court.

Despite the struggle of its U.S.-based parent company – which sought bankruptcy protection in the fall – Toys "R" Us' Canadian operation had been profitable for the last decade, and is the second-largest toy retailer in Canada behind Walmart. While the U.S. company cited competition from online retailers like Amazon as a major reason for its financial struggles, the Canadian arm still drives upwards of 80% of its sales from in-store sales. It has also been undertaking efforts to make its store more of a destination for kids and families, including new store concepts that include dedicated, interactive play areas and mixed-reality experiences that can only be unlocked in-store.

Prior to Fairfax's bid, court filings revealed that numerous parties had been approached to acquire Toy "R" Us' Canadian operations, which debtors looked to bundle with roughly 200 of its best-performing stores in Canada. The only one of those parties to publicly reveal themselves was a group of investors that included Issac Larian, CEO of MGA Entertainment. MGA makes the Bratz and Little Tykes toy lines, among others, and is one of Toys "R" Us' major suppliers.

"Toys "R" Us Canada is a good business," Larian said in a statement in March. "They run it efficiently, and have good leadership. At the right price, it makes economical sense."

Larian and the group of unidentified investors made a bid of $215 million USD, but told The Canadian Press that he'd be focusing on the retailer's U.S. operations following Fairfax's successful bid.