Nescafe mimics the coffee shop
The brand is taking on its biggest competitor by masquerading as a cafe in grocery stores across the country.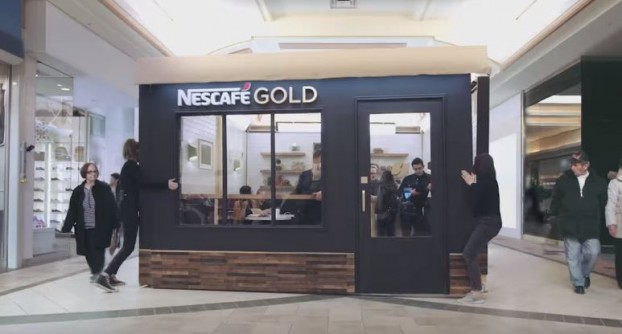 Canadians love their coffee, so much so that the country ranked third in total caffeine consumed annually, six spots ahead of the U.S.
The consumers are there, but so is the competition. Nescafé has been battling players on either side, from at-home brewing options to on-the-go coffee shops, but one of its biggest obstacles is the misconceptions that exist around instant coffee brews, says Ryan Saunders, VP marketing, coffee and beverages at Nestlé. They're perceived as lower quality, second only to a café cup with a higher price tag. "We wanted to show them that [Nescafé Gold] is coffee shop quality that you can make at home."
Enter the Nescafé Gold pop-up coffee shop.
To reframe perceptions and get people to experience the brand as they would in a cafe, the Nestlé team (alongside agencies Mosaic and Work In Progress) built branded coffee stores inside 40 grocery locations across Canada. Hundreds more retailers saw ambassadors sampling the newly repackaged Nescafé Gold product, which has been reformulated to include grains ten times finer than regular ground coffee (giving it a richer aroma, and adding to the full-bodied coffee taste experience, according to the brand).
One of Nescafé's branded shops recently sat at the Loblaws Maple Leaf Gardens store in downtown Toronto, where a large-scale gold tap was installed for people to use to make their own brew before taking a seat at one of the coffee shop tables. The idea being communicated through the retail activations, as well as in supporting digital and TV creative, is "coffee shop quality in an instant," says Saunders.
Enjoyed our trial #coffee @nescafe at @LoblawsCarlton! #yum. #toronto #canada #goldBlend w/ @MarkusWildon pic.twitter.com/mDbe9mMpIp

— Graeme Harper (@NotSoAtl) 15 April 2018
The brand had done blind taste tests prior to rolling out marking, and for the most part, "people love the taste when they try it, so we decided to have a little fun with it, " says Saunders, pointing to a mall stunt that took place earlier in March. As unsuspecting shoppers took a break at tables and chairs in the mall, Nescafé built a pop-up shop around them in seconds. The experiential component played into the broader messaging, bringing the cafe experience to people in an "instant," with the agency teams filming mall-goers' shocked reactions when they tasted the coffee and using the footage to produce 60-second and 30-second spots for online.

Shifting consumer perceptions is also being challenged through new TV commercials that position Nescafé Gold as a product that's "crafted with care," says Saunders.

The slow-motion, high-key lighting and close-up shots of the soluble espresso, medium and dark roast options offer the ability for the brand to talk about "the amount of work it takes to … make sure the quality is to our standards. From the moment the bean is picked by hand to roasting, the product is crafted with care end-to-end, from bean to cup," he says.

Within the last 12 weeks, since relaunching its Gold product line, Nescafé (alongside its Taster's Choice, Nescafe Rich and Sweet & Creamy products) has helped grow the soluble coffee category by 16%, while its own portfolio has grown 23% (according to numbers provided to the brand by Nielsen). "We're bringing in new consumers that would have otherwise gone to a coffee shop and paid $3 for a cup," adds Saunders. "Younger consumers want great coffee that's accessible, so just adding fresh water to get that is really resonating [with that audience]."