Why SAXX has shifted to purpose-driven marketing
The brand is looking through an anthropological lens to find the connection between men's undergarments and social change.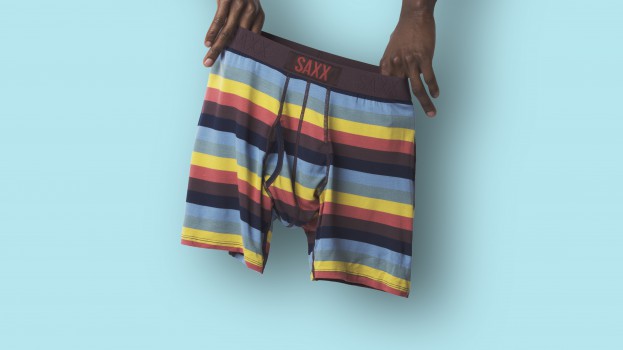 The relationship between positive social change and men's undergarments may seem tenuous at best. But Canadian men's underwear brand SAXX has fully embraced that connection, shifting its marketing approach to focus more on modern-day "change-makers."

The company recently released the first spot in a new platform that's reminiscent of inspirational performance brands – a far cry from the Cannes Lion-nominated "SAXX Prom" video it created with One Twenty Three West back in 2014. This time, SAXX directed the creative in-house with the help of a few production teams.

Braden Hoeppner, who joined SAXX as CMO less than a year ago, says that research into where culture and gender norms are headed – as well as what kind of stories it "has the right to tell" as a men's underwear brand – laid the foundation of its new strategy, which is on full display in its new "No Status Quo" campaign.

He says the brand previously counted higher-paid athletes, such as baseball pitcher Jake Arrieta and basketball player Kevin Love, among its influencers and brand ambassadors. But in "No Status Quo," it's everyday men focused on bringing positive change that take centre stage – men like conservation technologist Topher White,  founder of Rainforest Connection, and Cesar Jung-Harada, a French-Japanese inventor, environmentalist and entrepreneur who created ScoutBot, an ocean-mapping robot.

"For us, the connection was we reinvented underwear," says Hoeppner, referring to SAXX's trademark Ballpark Pouch, a baseball-glove inspired design element created with the male anatomy in mind. "We took that innovative approach as a company, and said, 'Why aren't we speaking that way as a brand?'"

Of course, the new approach comes with trade-offs. "It might not be as forceful as using celebrity or sports figures," he says, "but I think there's a level of interest there that's unique."

According to Hoeppner, the brand's approach has been informed by both qualitative and quantitative research. On the quantitative front, SAXX has been using its wholesale distribution channels and website to gather transaction and geographic data to better understand how and where its customers shop. "That's the journey we're on," he says. "I wouldn't say we're top notch in it; we're learning."

It hasn't stopped there, however. It also worked on the brand strategy with Idea Couture, which pitched itself as taking "an anthropological and futurist approach."

"Our question to them was [on] male identity formation," says Hoeppner. "How do male identities get formed and how do consumer products interface with that?" Men may not think of underwear very often, he says, "but it's the most intimate piece of clothing that they have, and there's an opportunity for it to be an expression of what their beliefs are."

When it comes to broader cultural trends, SAXX is taking a forward-looking approach with the help of Idea Couture, and is anticipating where current conversations around male vulnerability and failure, for example, will lead ten years from now. In the coming months, it plans to dive deeper into the stories already highlighted in "No Status Quo," as well as some new ones, as it continues to celebrate the positive impact men have on society.