Packaging and partnerships that break through
How brands used refreshed design and ambitious stunts to stand out at this year's Shopper Innovation Awards.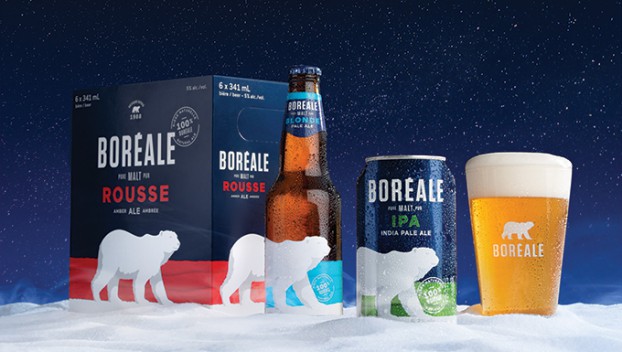 Over the coming days, strategy is taking a deep dive into the insights, trends and strategies that helped propel this year's Shopper Innovation Awards winners to success. Be sure to familiarize yourself with the full list of winners, and check here for any features you might have missed.
This story appears in the May/June 2018 issue of strategy.
Dynamite branding in new packaging
Most of us are guilty of judging a product by its packaging (which, some argue, is as important as the item itself). Outdated imagery, identity and package design can result in low relevance and a weak brand positioning. But where there's a will to renew, there's a way to breakthrough – just look at Boréale and Olympic, two brands on opposite sides of the country that connected with young beer drinkers and yogurt eaters by linking back to their natural origins through rebrands.
Founded in the late '80s in the north of Quebec, Boréale is one of the pioneers of the province's microbrewing movement. But, over the years, it had lost fans to an explosion of newer microbreweries, and sales began to decline.
For millennials, the call of nature is enticing and disconnecting from their connected world is an aspiration. What a coincidence, then, that Boréale is a proponent for the great outdoors, as it brews beers exclusively using natural ingredients. That became the inspiration for a new brand positioning, "Celebrate life naturally" – a nod to Boréale's authenticity, the thirst for freedom and rejection of the superficial.
Working with Lg2, the beer brand's product line was redesigned and reworked into three large families, each aimed at a different consumer, and all tied into Boréale's new master brand platform. First, the Classic line was designed for more mainstream drinkers and included its popular brews. Second, the brand's Artisan series was created with the explorer beer drinker in mind and includes products that are more unique. Finally, the Episode product line consists of limited-edition draft brews that can only be found in select bars.
No refreshed packaging is complete without a campaign: "Free the Bear in You" was introduced to Quebecers in online and TV spots, as well as posters, web banners, POS and social content using a media budget of just over $200,000.
The repackaging effort has paid off. Since launch, Boréale sales have increased 12.5%. During the same period, beer sales in Quebec decreased by 3.09%. Moreover, 54% of post-launch research respondents found the rebranding effort improved their perception of Boréale (that rose to 67% among millennials).
Packaging is especially important when your products sit crammed in the congested dairy aisle.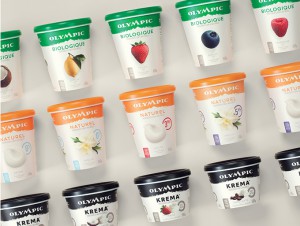 Olympic is a small yogurt brand from rural British Columbia. It competes against the likes of Danone, Yoplait, Astro and Liberté. One way to go head-to-head against these national giants was to create a new label.
To broaden reach beyond 55-year-old Western Canadians, Olympic worked with Lg2 to refresh its image and position itself as a premium brand to connect with a younger set of consumers in different Canadian markets.
The brand's story, purpose and meaning lay in its west coast DNA: organic, healthy, ruggedly simple and inspired by nature. From this insight, Olympic repositioned itself as more inclusive with the tag, "Canada's premium yogurt brand made with a west coast spirit."
A new product portfolio was developed with three main segments: Organic, Indulgence and Natural. The new Olympic logo was designed to convey the feeling of rugged, unspoiled nature, with a forest green master brand colour. The "M" in the Olympic name reflects the silhouette of a mountain, the west coast's most iconic symbol. The packaging was developed with a clean and uncluttered design that reflects the product's origin.
In less than eight months (between August 2016 and March 2017), Olympic became the fastest growing yogurt brand in Canada, as well as every other region in the country (increasing 11% nationally, 9% in Alberta, 23% in Quebec, 101% in Ontario and 6% in Western Canada).
High-flying partnerships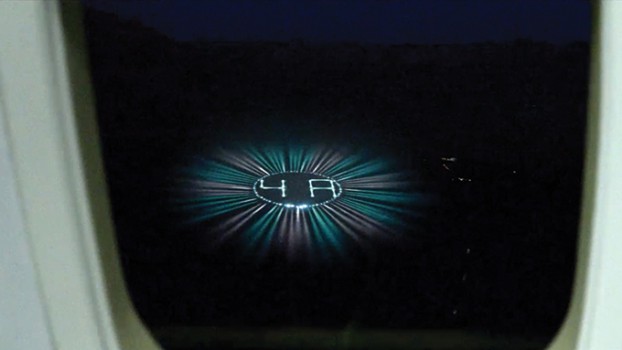 It takes three to build a giant roulette-style wheel (and claim two Guinness World Records) in the Mojave desert.

To accomplish such a feat, Westjet partnered with Westbury and the Las Vegas Convention and Visitors Authority (LVCVA), creating a gigantic wheel with lights that could be seen from a plane above.

It started when WestJet decided to do something remarkable for its 21st birthday. With Vegas being a growth destination for the airline, WestJet decided to team up with the city for its milestone and bet on a unique experience.

For three nights in May, passengers on flights to Vegas could see the wheel from 12,000 feet up in the air (thanks to Westbury using lights that projected 4.5 million lumens, a world record in itself). As they looked out their windows, the wheel was shown spinning and when it stopped, it displayed a seat number of the winning passenger. In order for the piece to work, the team had to coordinate with pilots, in-flight operations and flight control centre.

The stunt was created into a spot, which helped the brand achieve four million impressions, coverage in more than 25 outlets and 1.5 million views. Canadians also reacted positively to the video with 15,000 reactions and more than 1,000 comments.