The Agency A List – Carat
Redefining media with a growing investment and expertise in digital.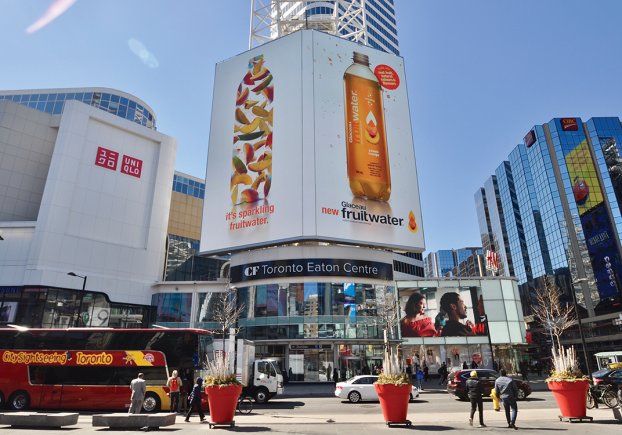 Carat helped launch Coca-Cola's new fruitwater sparkling beverage with a campaign that included Instagram Stories and digital billboards in Toronto's Yonge-Dundas Square.
Carat introduced the global positioning statement "Redefining Media" as a bold assertion in the competitive global media landscape. Soon after, its ambitions were validated when its Canadian operation was named Agency of the Year at the Advertising Club of Toronto's annual Digital Day.
Carat Canada CEO Jeff Dack says the accolade was a welcome acknowledgment of its growing investment and expertise in digital, which now accounts for up to half of its yearly billing volume.
Canadian brands are voting for Carat's strategic digital prowess by rewarding the agency with increased new accounts and expansion of services across the Dentsu Aegis Network Canada's creative, insights, social and measurement companies.
"Great work comes from a level of trust and transparency, and a rhythm and rigour that can only develop over time," says Dack. "Client tenure averages between five to ten years, making us serial monogamists and allowing us to create significant client market advantage."
Carat contributes an estimated 12% of Canadian media activity according to the French research firm RECMA. For 10 years running, it also topped the company's Global Qualitative Evaluation report – which measures agencies' ability to attract and maintain business while diversifying services.
Carat client work 
"We're fortunate to have incredibly collaborative client partners," says Dack. "Clients are demanding more cross-functional teams that eliminate artificial silos and facilitate working together to solve business challenges and create real market advantage.
Along with media capabilities, the Dentsu Aegis Network, Carat's parent company, fosters a shared performance strategy to drive client results. On any given account across the network, anywhere from three to seven agencies work on campaigns simultaneously.
Integrated thinking and improved speed-to-market are the most significant by-products of the multi-agency approach. Dack notes the network's unique one P&L model helps to create efficiency while eliminating the infighting that might bog down other multi-agency models.
Carat has brought this multi-agency approach to many of its clients, including Subway (whose team is collectively known as "The Franchise @ DAN North America") and on a growing scale with clients including Coca-Cola and Mattel (see below).
Buoyed by a series of high-profile account wins, Carat has grown to more than 200 employees across four offices in Montreal, Toronto, Calgary and Vancouver, while boasting a client roster that includes GM, MasterCard and P&G among others.
Since Dack's arrival, Carat has been experimenting with a more fluid work environment that provides teams with greater latitude about when and how they work, enabling them to become real-time resources for clients. "We are here to solve our clients' problems, and those problems don't always happen nine to five," says Dack.
"Empowering our teams to align to their client's culture has resulted in real-time solutions and an incredible environment of curiosity and energy," he says. "We're all motivated by the same thing, which is great work and incredible client results."
Profiles: