The Agency A List – Citizen Relations
The performance PR agency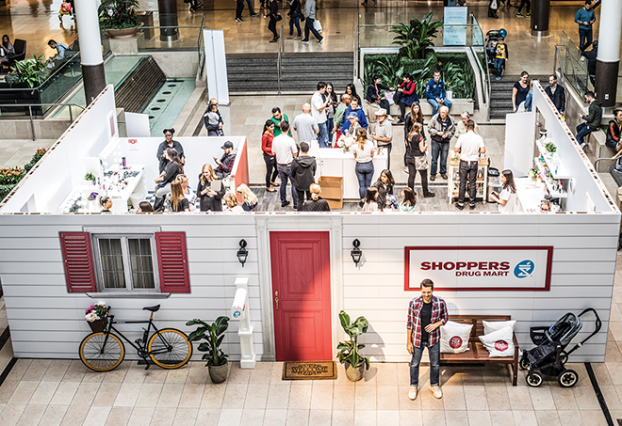 Citizen created an experiential program for Shoppers Drug Mart at CF Sherway Gardens to promote its 2017 "Top Picks campaign.  The experience positioned Shoppers Drug Mart as a health beauty and convenience influencer, while generating buzz, excitement and shareable content.  More than 8,900 consumers engaged with the brand. 
With a new influencer platform, proprietary measurement tool, system of billing tied to success, a New York-based CEO and a first-ever Canadian creative director, Citizen Relations has had a busy year. (And that's not to mention all the award-winning work from the agency, which culminated in a Bronze PR win at strategy's Agency of the Year gala.)
The flurry of activity is all part of the agency's three-pronged strategy designed to grow the PR shop eight-fold. To achieve this ambitious plan, it is in the midst of modernizing and diversifying it's offering with an eye towards globalizing its reach, says president Nick Cowling.
On the diversification and modernization front specifically, Cowling says the agency has been purposefully picking out areas of expertise it knows CEOs, CMOs and CCOs are demanding, such as strategy and analytics.
PR and earned media still make up the majority of Citizen's focus, he adds, but over the past five years, the agency has been deepening its expertise in specific areas that public relations might not have touched on before.
Today, for example, Citizen is in the software space, with Cultivate, a pilot platform that allows influencers and brands to connect.
Launched at the beginning of 2018, Cultivate invites influencers of varying reach to sign up, and brands are able to view the influencers' basic statistics – like what vertical they fall into or how many followers they have – but it also gets a bit more granular, Cowling says.
For example, Cultivate is able to determine what percentage of food versus travel content an Instagrammer creates, how many conversations that person inspires with followers and even how much reach those followers have. The platform also facilitates payments based on agreed upon figures – for example, if a YouTuber accepts a deal to create three videos for a brand, instead of waiting until all three have been completed, the brand can release payment for one-third of the payment price upon completion of the first video.
And what excites Cowling the most is that, because it was built in house Cultivate is a dynamic and fluid software, which can evolve as the needs of brands and influencers do. What's more, it creates opportunity for the PR shop to bring forward new influencers that the agency didn't necessarily have on its radar before. "We never want to hear from our clients 'You keep bringing back the same old people – isn't there anyone else,'" he says.
It's still in its infancy, and Cultivate has only worked with a couple of brands in beta at press time, but early results have been positive. Cowling points to campaigns for Doritos, Quaker, Dyson and Tim Horton's where Cultivate has been instrumental in uncovering new micro and macro influencers that generate results.
Metrics are always a popular topic for Cowling, and last fall Citizen unveiled its proprietary Citizen Pulse platform, which he hopes will help better capture purchase intent, rather than just measure attention and reach. Citizen Pulse has been in the works for the past three years, and measures across influence, organic conversation and engagement from third party content (i.e. media and influencer coverage).
"It's a hugely powerful tool that allows us not only track the trajectory of a story but also how it is impacting the end consumer and how that engagement is a source of data that impressions alone can't deliver," he says. "Ultimately, Citizen Pulse allows us to apply data science to storytelling."
Joining Citizen Pulse and Cultivate is a third digital-fuelled offering currently being tested with a U.S. client. Cowling says the end goal is to be able to offer clients a "performance PR" model, based off the performance-marketing model, which rewards agencies based on results. (So, for example, if click-throughs are the primary metric, the agency gets paid only when people actually click through.)
Beyond the new software programs, Citizen has also been staffing up with an eye towards globalization and diversification. It partnered with Provident Communications, a strategy-led corporate comms outfit, to beef up that skillset;  and recently, brought aboard its first-ever creative director.
CD Noah Feferman joins Citizen from sister agency Cossette, where he worked as an ACD with Cheerio's, Sick Kids and Public Mobile. He's been working with Citizen over the past several months, says Cowling, and was instrumental in helping the PR shop with its January Netflix win.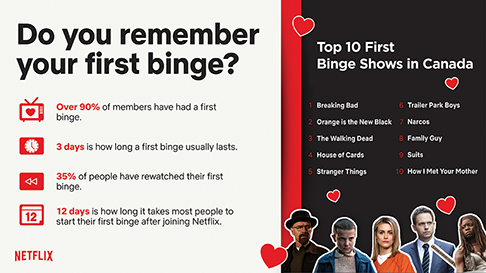 Leading up to Valentine's Day, Citizen worked with Netflix to remind Canadians of their first time… binging that is.
Feferman's primary goal will be to make sure all the work coming out of Citizen is "spectacular," says Cowling, adding the agency will still work closely with its Vision 7 sister companies.
Citizen leads in earned media and influencing conversation that drives results, he adds. In its simplest form, the agency wants to own the conversation on behalf of clients, and believes approaching PR through a strong creative lens – backed up with strategy and metrics – is the way to break through the earned space and deliver on business results and engagement that fuels clients own sector growth.
"Every marketing discipline is changing, and changing fast," Cowling says. "We want to do more than keep up. We're going to lead."
Profiles: