The Agency A List – DentsuBos
Free-spirited and constructive debate permeates every aspect of the agency's approach to creating brand advantage.
DentsuBos formally adopted "Challenge Everything" as its guiding philosophy, empowering teams to work alongside clients and look beyond the norm. It's an approach that has led to emotive bi-cultural creative that builds stronger brands, stronger consumer engagement and stronger sales.
Free-spirited and constructive debate permeates every aspect of DentsuBos' approach to creating brand advantage. Regardless of whether the ask is for strategy, design, creative, digital, production or client services across its offices in Toronto and Montreal, agency leaders work alongside marketers to uncover the core of issues and aspirations.
"When we empower our clients and our teams to have honest discussions about their challenges, what comes out of it is meaningful solutions," says DentsuBos president and CEO Stephen Kiely. "It's in our DNA to help clients go from number five, to number two, to number one."
The results speak for themselves: a record 23 awards in 2017, many related to creative excellence that celebrate significant brand ROI.
Accolades included a silver Marketing Award for its "Snowden CCTV" out-of-home campaign for the Oliver Stone film Snowden – in which it tracked unsuspecting pedestrians as they walked through Toronto's Yonge-Dundas Square and broadcast their images on one of the large digital billboards overlooking the public space.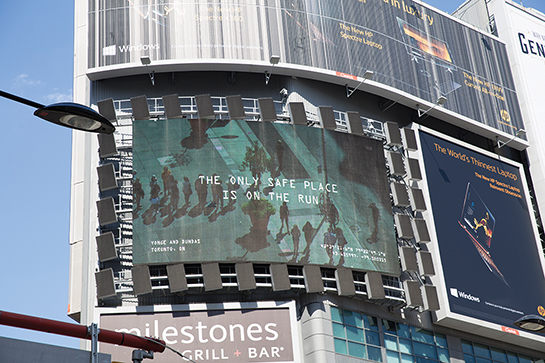 To help launch the Oliver Stone film Snowden, DentsuBos and Elevation Pictures deployed an eye-catching surveillance operation around Dundas Square.
DentsuBos also won a silver CASSIE for the launch of Arterra Wines Canada's premium brand, Bù. The strategy contributed to 2.16 million bottles sold in the first ten months and the second highest awareness level for an international import grocery-store wine.
Recent account wins including Subway add to an impressive list of local, national and global clients including Canada Dry Motts, Hitachi, Lexus and Purolator.
To bolster ability to craft great work and edge that gives brands in the market, Kiely focuses on identifying strategic talent capable of providing an entirely different lens on projects.
"We're as strong in Montreal as we are in Toronto," says Kiely, who regards himself as the poster child for the Dentsu Aegis Network (DAN) agency's philosophy of steady upward movement for the people who help fuel the business.
It was a philosophy that contributed to last year's promotion of Montreal native Sebastien Rivest to chief creative officer and managing director, and Lyranda Martin Evans and Travis Cowdy named VP, ECDs at its Toronto office.
The strategy department has also evolved, embedding a business strategist with a brand-planning strategist. On the digital front, DentsuBos' digital unit 360i provides support for everything from performance media to social, and the inhouse resources offer clients greater control over costs and quality. "Once you know how to do the how, it makes dreaming a bit easier," says Kiely.
The same is true for production capabilities, especially video, where DentsuBos can build the strategy and execute the campaign to perfection from shoot, edit and retouch. Kiely says the goal isn't to bring everything in-house, but to best serve creative ideas. "The more we can do in-house to protect the product and help our clients do more with increasingly tightened budgets, the better we're serving them." "We are a slave to the idea and whatever sets it up for success."
Profiles: