Nestle goes big for Minis
The confectionery company uses some visual tricks to make little chocolates seem larger than life.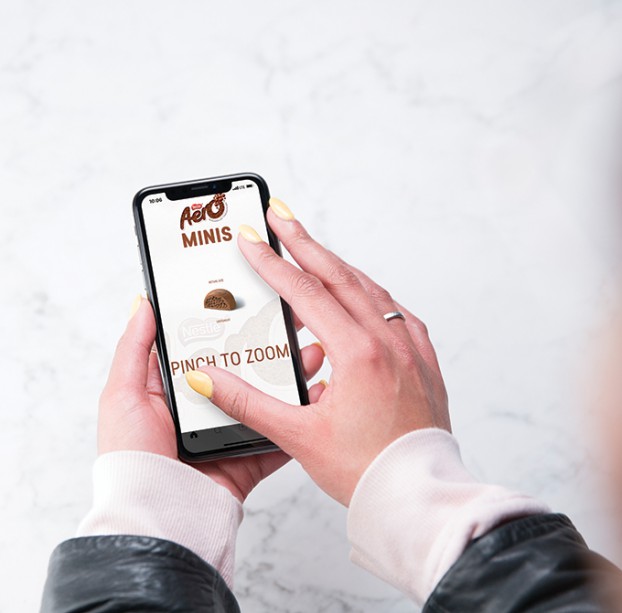 This story originally appeared in the May/June 2018 issue of strategy.
By Rebecca Harris
That blasted camera lens, it did it again: those mountains are behemoth in person, but when photographed, they shrink in size. It's a curse for anyone trying to express the sheer magnitude of their tourist sights, but for Nestlé, it's a blessing in creative disguise.
The confectionery co. and agency OneMethod have been pushing the boundaries of social, cinema and outdoor media for tiny versions of the brand's chocolates – from Aeros to Turtles – to make the new Minis seem larger than life.
In transit ads, a bite-sized Kit Kat appears giant until a person snaps a pic and watches it shrink to scale. On Instagram, an ad for Aero Minis invites users to "pinch to zoom," so that the image shows the product's true size as though the candy is between the user's fingers.
Brooke Morrison, marketing manager at Kit Kat, says the campaign goal was to display the message in a relevant way for each platform, instead of forcing one piece of creative into multiple platforms.
Morrison says the tag, "A little of what you love," is rooted in millennials' desire for the balance of moderation and indulgence, as well as the growth in snacking behaviour, both in food and how they're sharing bite-sized content with friends.
"'A little of what you love' brings this to life with a straightforward, honest tone: Nestlé Minis are still that indulgent chocolate treat that you love, just mini," she says of the new format, which are now on shelves in convenience, grocery and pharmacy retail. "Interactive ads are a quick and bite-sized way to bring that story to life."
Nestlé is packaging the Minis in re-sealable, standup pouches, in order to tap into the consumer trend towards snacking and sharing, which is especially prevalent among millennials, Morrison says.