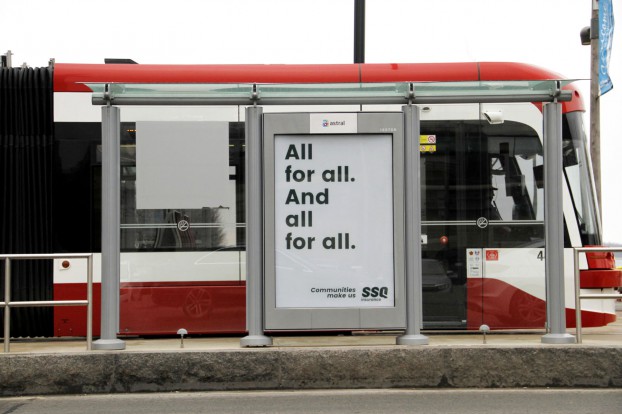 SSQ Insurance launched a Canada-wide campaign last week, the first look at the company since its rebranding earlier this year.
Formerly SSQ Financial Group, the 74-year-old company revealed its new brand identity and positioning in January. With a new tagline – "Communities make us" – the messaging behind the campaign aims to convey that community is there to help even if you don't see it, according to Eric Trudel, senior vice-president of strategy and product management at SSQ.
"We did full branding exercise last year to arrive at the conclusion that we want to focus more on what we do best: insurance," Trudel says. "We believe that we should put community at the heart of insurance, so that's why we want to brand ourselves as the insurance that puts community at the heart of everything we do."
The campaign was created by Montreal agency K72. Other elements include billboards, OOH advertising in Toronto, on 24-hour TV news networks, on social and online.
Trudel says that although previous iterations of the brand did not emphasize its community roots, it has always been the foundation of SSQ. The company, initially called the Coopérative de santé du Québec, was founded in 1944 by a doctor who provided care to Quebec's working class.
"Community made us 74 years ago and that's the thing we think differentiates us. It's really in our DNA," he says. "That's the concept that we want to put forward in our new campaign because we think that it's something that can differentiate [SSQ] from other carriers in the pan-Canadian market"
In developing the new brand identity, SSQ consulted internally with its board and employees, as well as externally with focus groups involving partners, clients and non-clients. According to Trudel, the community concept was appealing, and since SSQ could tie it back to its history, it became a way for them to "walk the walk."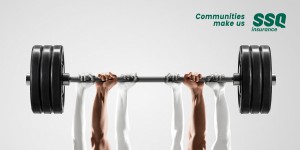 SSQ launched TV and radio campaigns in Quebec earlier this year to promote their products in the province, like auto and home insurance.
Outside of Quebec, however, the company acts as more more of a B2B, selling through TPAs, brokers and consultants, targeting campaigns toward partners and employers who may decide to get SSQ group insurance.
Currently the sixth-largest life insurer in Canada, SSQ is looking to grow in markets outside of Quebec, where it already has high familiarity. This is a new angle for SSQ, which has not done many campaigns outside of its home province in the past, according to Trudel.
Going forward, Trudel says SSQ has a lot of ideas for the next phase of the campaign.
"We know that there will be a followup to this campaign in the fall, but we have work sessions planned in the next weeks and months to really determine what we [want to] do," he says, adding that the next phase will likely be similar in tone.