Rain43 expands nationally
The agency, now simply called Rain, has added offices in Calgary and Vancouver, with others planned for Montreal and Halifax.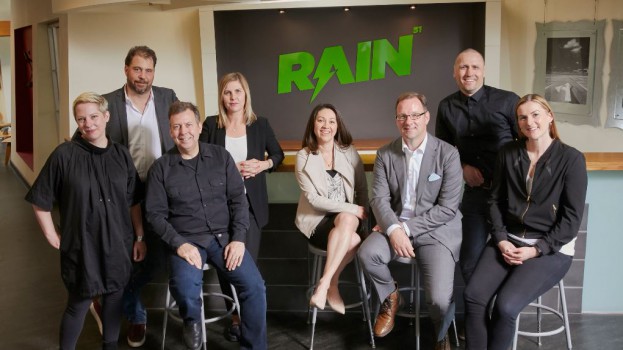 From left to right: Jane Murray, VP and ECD; John Yorke, president and CEO; Dave Stubbs, VP and ECD; Christine McNab, general manager; Tracy Gonzalez, VP and managing director; Dennis Cant, VP of client development; Duncan Porter, VP and ECD; and Laura Davis-Saville, VP of strategy.

Toronto's Rain43 is expanding nationally with the addition of new regional offices, fulfilling a vision it has had since launching in 2010.

The independent agency has added offices in Calgary and Vancouver, with others planned for Montreal and Halifax later this year.

Nationally, the agency will be known as Rain. For now, it will encompass Rain43 in Toronto, Rain51 in Calgary and Rain49 in Vancouver (the respective numbers being a reference to the latitudinal positioning of each city).

To facilitate its westward expansion, Rain has acquired Karo, an agency with offices in Vancouver and Calgary, along with its staff and clients. Karo's Tracy Gonzalez becomes VP and managing director of Rain's Calgary and Vancouver offices, and Dennis Cant, new to the organization after eight years at Wax, takes on the role of VP of business development and will work out of the Calgary office.

The teams in Calgary and Vancouver will continue to serve their existing clients, but with support of Rain's creative and production services in Toronto.

Rain CEO John Yorke says expanding has always been part of the agency's long-term goals. When it launched in June 2010, "an essential part of Rain was not just about our client's growth, but our growth," he says. "It's always been something that we've considered, we were just looking for the right opportunity, the right reason."

Yorke says plans to go national "came more into light" in the last 12 months, following new business wins and recent additions to its leadership team.

In December, the agency hired Camielle Clark as VP and head of integrated production to focus on maintaining its "speed-to-market" capabilities. In the fall of 2016, it added Christine McNab as general manager, a few months after having hired three new ECDs – Jane Murray, Dave Stubbs and Duncan Porter – in preparation for the retirement of co-founder and CCO John Farquhar.

Over the last year or so, Rain has picked up business from Freedom Mobile and Carlson Wagonlit Travel, as well as new assignments with the Government of Ontario.

Plans to open future offices in Montreal and Halifax are based on Rain's current client needs, says Yorke. In building out its operations, it will look to work with Montreal-based Blueblancrouge. The agencies have worked on assignments together, and BBR previously shared office space with Rain43 when it launched its Toronto office in 2016.

Simultaneously entering new markets is not without its challenges, however, because only a small number of leadership members have been with the agency for more than two years.

"We have to move quickly to accomplish what we want, to be able to deliver client services, but slowly enough to make sure that we don't [mess] it up," Yorke says. "It may seem aggressive, but nothing about Rain43 has been done on the fly as we go."

The acquisition and expansion bring Rain's overall headcount to 67 full-time staff members.

Yorke says Rain has not discounted an eventual expansion to markets outside of Canada, but it will wait to see what its future client needs are first.