Velux aims to save the "indoor generation"
The skylight company makes a push beyond home builders with a dramatic look at the effects of spending time inside.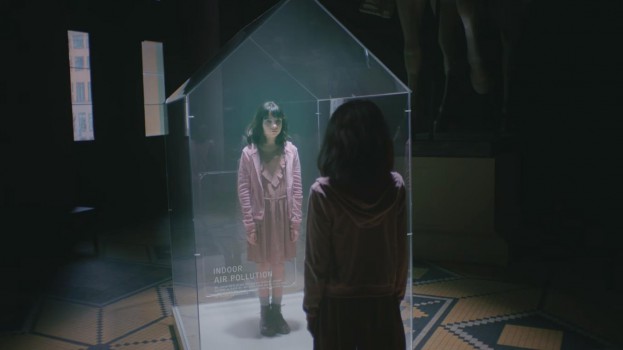 A new campaign features an emotional, dramatic exploration of the ways spending more time inside is having negative consequences on our health – which might be unexpected from a company that makes skylights.

The three-minute long video from Velux takes an approach that, while dramatic, appears to take a route similar to brands and organizations that have lamented the fact that people are spending more time inside. It begins with all the positive things people have done inside their homes, from cooking to spending time with loved ones, referring to the "indoor generation." But then it takes a turn, showing that as screens and technology have led to us spending more and more time indoors, the pollutants in our homes are creating physical and mental health issues, from depression to increased blood pressure to asthma. The video ends not by encouraging people to get outside, but accepting that this is the way people live now. It instead encourages viewers to save the "indoor generation" by improving the air quality and amount of daylight in their homes.

The video is part of a digital-only push, with paid buys on Facebook and YouTube, as well as web banners. Creative agency &Co created the "Indoor Generation" video and developed visual assets for the campaign, with Oath on paid media. Weber Shandwick is handling PR, with agency Clever Samurai providing additional PR support for the Canadian market.

According to research from the United States Environmental Protection Agency and Aarhus University, indoor air is often more polluted than the air outside. But in a survey of 1,000 Canadians conducted by YouGov on behalf of Velux, only 31% correctly stated that indoor air is more polluted than outdoor air. The respondents also misjudged how much time people tend to spend indoors, estimating it to be around 68% of the day, even though the real amount is 90%, according to the World Health Organization.

Arethea Harris, national marketing and communications manager for Velux Canada, says that discrepancy is why the brand believes the global campaign will resonate with Canadians. She adds that while Velux has shared this research with home builders, architects and government policymakers in the past, this is the first time the company is bringing this message to a wider consumer base. A sustained brand platform is also something that is rare for Velux, as Harris says previous marketing has been very product-focused.

"With this campaign, the objective is not necessarily to sell our product, but to raise awareness to the problem," she says, adding that the fact that Velux branding doesn't appear until the end of the video helps place the focus more on the issue than the company. "It's focusing on the message, and not so much attaching our brand to it. Our hope is that customers aren't going to perceive this as a marketing ploy, but more of an awareness campaign. We really just want to make people think."

In the near future, and once awareness of the "Indoor Generation" campaign has risen, Velux plans to launch the second phase of the campaign, which is focused on solutions that it can provide by taking a more detailed look at how things like sunlight and ventilation can make indoor environments more comfortable and healthy. Those will also be slightly more product-driven: this summer, the company is launching its Velux Active system, which can automatically open skylights when humidity or CO2 levels in the home get too high, or close when inclement weather rolls in.