Garnier runs Whole Blends pop-up
A series of Toronto activations used sensory experiences to help customers discover the brand's natural ingredients.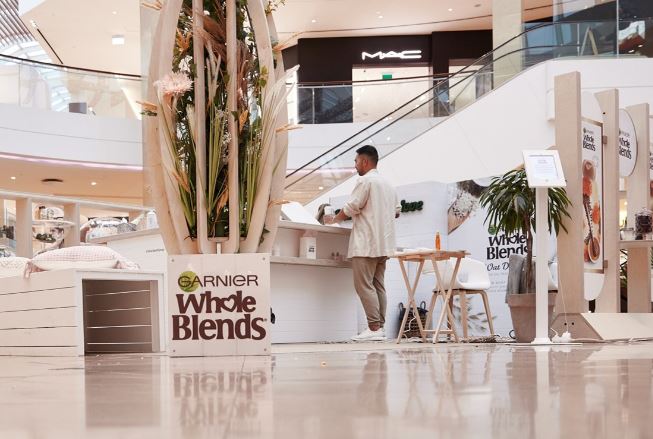 To help drive familiarity with its products, Garnier Whole Blends recently ran a pop-up at two Toronto malls to help customers discover the benefits of the product line's natural ingredients.
The L'Oreal hair care brand's pop-ups featured an infusion bar with drinks inspired by Whole Blends ingredients, an on-site hair expert, custom product labels that participants could use to print their own thoughts about the experience and a space dedicated to natural well-being where influencers did media interviews. One pop-up ran at the Square One Centre in Mississauga in April and two others were at the Scarborough Town Centre earlier this month.
The pop-ups offered "holistic and personalized" experiences, according to Carole Maury, marketing manager for Whole Blends at L'Oreal.
Maury says that it's the first time the brand has run an activation of this kind. The effort was partly in support of Garnier Whole Blends' new Oat Delicacy line of hair care products that launched earlier this year. Oat Delicacy is intended for sensitive scalps and delicate hair needs, says Maury, making it a good fit for an activation focused on sensory experiences.
Montreal agency Speed XM worked on the concept development, production and execution. The agency's mandate also included data acquisition and social sharing, according to Ronald Tapiero, president and CEO at Speed XM.
As part of the activation, the brand hosted a spa day contest to help collect participants' postal codes and emails and have them opt into a brand newsletter. Tapiero says the lounge layout and experiences were designed to be shareable on a variety of social platforms using the hashtag #WholeBlendsLounge.