Subway launches its latest millennial-focused campaign
The playful creative promotes new bread and guac options to align with the company's recently launched platform.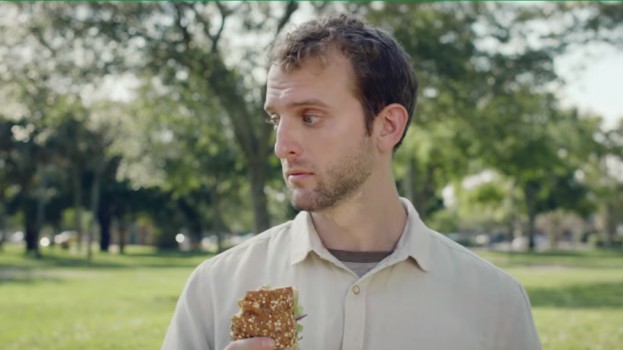 Subway Canada launched its latest millennial-focused campaign last week, this time choosing to zero in on new fresh-baked bread and guacamole options.

Created by creative agency DentsuBos and media agency Carat Canada, a TV spot starts off with a man eating a Subway sandwich in a park right before a stampede of ducks comes searching for a taste of the new Harvest Bread, which is made from whole wheat and rye flours and topped with flax seeds, sunflower seeds, barley and rolled oats and is also free from artificial colours, flavours and preservatives. The campaign also promotes the company's new guacamole offering, which is being promoted as a perfect pairing with the new Harvest Bread option.

Other campaign elements include social and radio.

The campaign is the latest in the brand's "Make It What You Want" platform launched in March, which has aimed to strengthen the sandwich company's position with customization-hungry millennials.

"Our tone has shifted quite a bit with this platform," says Cristina Wells, senior marketing director for Subway Canada. "It's a bit more contemporary, a bit more playful and slightly rebellious." After the man in the spot meets the ducks, the TV spot ramps up with fast-paced music, quick edits and animations.

According to Wells, the campaign aims to harness the fact that bread is what Subway is known for while also tapping into what millennials themselves are known for – a penchant for having things they way they want.

Wells calls the demographic the core of its customer-base, adding that, while the brand continues to speak to them, it has shifted it's tone by speaking in terms of millennial lifestyle and life experiences.

The rebellious tone Wells referred to could also be picked up on in Subway's previous Greek wrap campaign, which ran until May 21, included a TV spot featuring home-video footage of traditional Greek plate smashing alongside running text urging viewers not to try it themselves.

Although the "Make It What You Want" campaign is bolder than previous years, Subway's build-your-own service method has been a focal point of its marketing strategy for several years. A 2014 campaign by KBS Montreal, for example, featured footage of its "sandwich artists" alongside young musicians, glass blowers and graffiti artists, suggesting the parallel between the brand and stereotypical, creative millennial lifestyles.