Felicity PR creates Content Studios division
The new division and its leadership team formalizes the agency's branded content offering.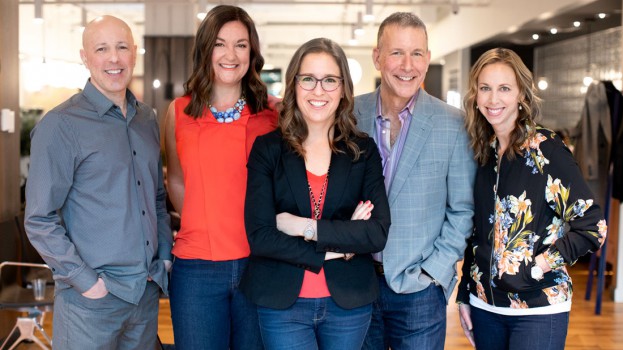 From left to right: Felicity Content Studios creative director Ronnie Lebow, editor-in-chief Alyssa Schwartz, founder and president Amy Laski, publisher David Lindover and vice president Rachel Evans.

After long having worked with clients on custom content, PR agency Felicity has formalized the offering with the creation of a distinct branded content division.

The practice, known as Felicity Content Studios, will be led by editor-in-chief Alyssa Schwartz, a content writer and journalist. Ronnie Lebow will serve as creative director and David Lindover as publisher. The division's new leadership team will answer to Felicity president and founder Amy Laski and VP Rachel Evans.

Lebow has previously worked as a creative director, senior art director, senior copywriter and senior designer for numerous advertising agencies, often on a freelance basis. Lindover has led the conception and development of "storytelling programs" at several large organizations and helped launch a Canadian computer industry trade publication.

Laski says that earned media continues to be an effective way for brands to reach audiences at a time of media saturation and ad blockers, but that those opportunities are challenged by shrinking budgets.

"This has paved the way for brands to produce compelling custom content themselves as a means to educate, entertain and engage their audiences," she says. "But this content has to deliver value to the audience – it can't be part of the ad bombardment or it will be ignored."

Laski says Content Studios complements the agency's existing Content Collective offering, in which the team engages with the client's influencers and stakeholders to uncover key business and category insights on which it can offer recommendations.

"Felicity Content Studios is the next step, allowing brands to transform those insights into audience-facing content that will drive engagement and deeper and more direct relationships with their targets," she says.

According to agency numbers provided in a press release, 90% of Canadian consumers say they "like being engaged by brands via custom content," and more than 80% say they "feel more positive about a company after reading their custom content." As a result of those consumer attitudes, branded content results in conversion rates that are six times higher than with other marketing methods, according to the agency.