Muskoka Brewery dives into digital
For the first time, the craft brewery ventures off its beaten path into online video, social and display.
With three campaigns running throughout the summer, Muskoka Brewery ran off the cottage dock and dove headfirst into digital advertising this year.
For the first time in its 22-year history the Bracebridge, Ont.-based craft-brewing company teamed up with agency Republic to create videos to be posted on social platforms. Last year, Muskoka spent zero dollars on digital advertising. Ross Buchanan, who has been in the role VP of sales and marketing at the brewery for about 10 months now, decided to try something new. Previously, the cottage-country brewery focused mainly on radio and print, with some out-of-home. This year, Buchanan opted to split the ad dollars equally on digital, radio and out-of-home.
"[Digital] is where it's at," says Buchanan.
True Media led all media strategy and execution and championed the new focus on digital, says True Media president Bruce Neve.
As in past years, the brewery launched campaigns in late spring since the majority of its sales happen between the Victoria Day long weekend and Thanksgiving, says Buchanan. While none of the current campaigns are going after a specific sub-demographic, in general they're all meant to appeal to males and females aged 24 and up in the Toronto and Muskoka regions who drink beer. For digital, the brand is focusing on YouTube, Facebook, Instagram and search.
Muskoka's masterbrand campaign is in its third year and has always focused on promoting the freshness of the brewery's beer. This year, Buchanan wanted the campaign to communicate three pillars: the beer journey a customer goes on, the values of Muskoka Brewery, as well as the freshness. The fresh campaign launched on May 16 and goes until early September. In a first for the company, the campaign features a 60-second video showing stunning views of the Muskoka region, as well as an inside look of the brewery. The video was also cut down to three 15-second vignettes for social media.
The masterbrand work is running concurrently with its "Gateway to Great Lager" campaign, which kicked off on April 30 and will also run until early September. The tagline for the campaign, promoting Muskoka Brewery's Craft Lager, is, "A Great Lager Is Closer Than You Think." To underline just how close a great lager really is, Republic placed out-of-home ads as close to point-of-purchase as possible, says Republic's president Kathy Murphy. The transit shelter ads in Toronto juxtapose commuters' urban surroundings with art that features the brewery's blue-and-white lager can, along with a blue Muskoka chair on dock with a view of calm, blue water and green trees.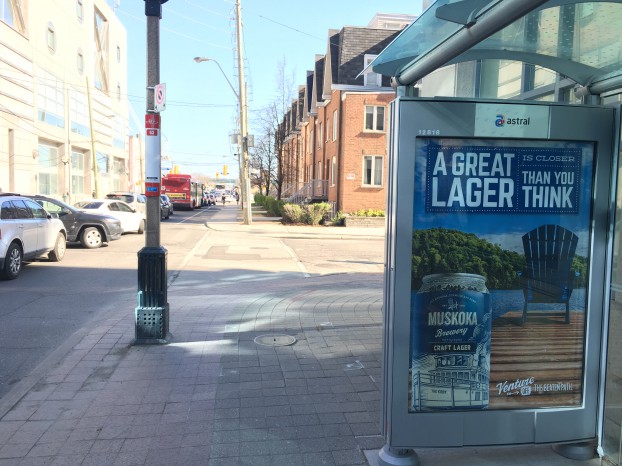 The lager campaign also includes radio ads, YouTube bumper ads, digital display banners and targeted social media creative.
Finally, a campaign for the brewery's Detour beer started early last month and runs until late October. Republic partnered with Toronto-based artist Oleg Portnoy on "Take a Detour" to design a map depicting landmarks and detours in the Muskoka and Toronto regions. Portnoy painted a "Take a Detour" map outside of a barbershop in downtown Toronto earlier this month. So far, Portnoy has painted two murals outside of barbershops this year. Samples of the session ale have also been handed out in the barbershops as part of the promotion. The collaboration with Portnoy and barbershops has been a great opportunity for face-to-face connection and more murals are planned for this year, says Buchanan.
The Detour campaign also features mini-monster posters scattered across the Greater Toronto Area. And in another first, a five-second stop-motion video of Portnoy's colorful map was created for social feeds. The campaign also features audio ads for play on Spotify and the Indie88 radio station.

Muskoka Brewery encourages beer drinkers to "venture off the beaten path" – this year it took its own advice and found new ways to connect with beer drinkers. So far taking a new path is paying off.

"We're hearing a lot of great people talk about it," says Buchanan of the brewery's buzzy digital presence. "We're seeing great traction."