Tech in Action: Ok Google, let's play a round of golf
The company turns its Home smart speaker into a caddy to show what it's capable of.
Google is showing off the utility of its voice-powered speaker with a mini golf course that requires a smart assistant in order to win.
Each of the six holes on the course features all of the obstacles one would expect from a standard mini-golf course, but it also includes one of the company's smart speakers: the Google Home, the smaller Google Home Mini or the larger Google Home Max. The course is themed like a colourful, brightly lit house, and some of the obstacles can only be activated by speaking a command, many of which are related to the smart home controls offered by the voice-powered Google Assistant.
For example, the standard mini golf windmill will only start turning if a player asks Google to turn on a nearby fan. Some holes stay dark until you ask Google to switch on the lights, while other paths are obstructed by kitchen appliances until you ask for a specific recipe.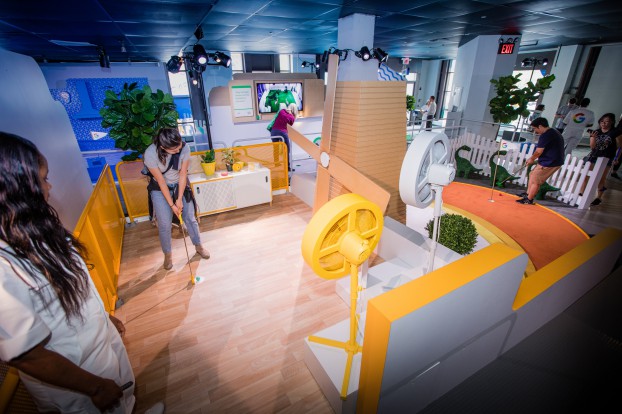 The pop-up took place in New York last week, and will tour to Chicago, Los Angeles and Atlanta throughout the summer.

Google has gotten into the habit of using on-the-ground activations to show off what its line of smart speakers is capable of as it continues to compete with Amazon's Alexa-controlled Echo speakers. Last fall, nine cities in the U.S. and Canada hosted a Google donut shop that served free donuts whenever visitors asked a Home device a question. At this year's SXSW, the company created a fun-house filled with devices controlled by its smart speaker.