Canadian Red Cross pulls at millennial heartstrings
The non-profit's new social campaign aims to familiarize the next generation of donors and volunteers with its work.
In between posting that latest gym selfie and liking the latest Selena Gomez post, the Canadian Red Cross is hoping young Canadians will check out its latest campaign.
The new national social media campaign, "Be Part of the Equation," features dramatic black-and-white images that the Red Cross hopes will add up to more millennial Canadians feeling a connection with the humanitarian organization.
The Red Cross worked with Agnostic, the digital arm for Proof Inc., on developing an awareness campaign targeting millennials, primarily via video and photo ads that show the organization's real volunteers and staff. A video (with a 30-second and 45-second version) welcomes viewers to a "new type of social network where connecting can save lives." The visually-striking video, created with viewing on smartphones in mind, is intended to get viewers to click through to view Facebook canvas and carousel ads to see more images and information about the organization that's been around since 1896, says Sara Falconer, director of digital communications at Canadian Red Cross.
"Millennials are an important audience as we look to the future," says Falconer. "We're building a long-term relationship with that audience. It's not necessarily about converting them into donors right this second, it's not necessarily getting them to take an action such as volunteering right away… [I]t's more about letting them know about the Red Cross as a brand."
Agnostic surveyed 250 Canadians in the 18- to 34-year-old range about the brand and found Red Cross had a good reputation, but many younger people could not say what the organization actually did here in Canada, says Karly Gaffney, Agnostic's director of strategy. The agency conducted in-person interviews with ten millennials to gain insights into how to reach a group that is "notoriously difficult" to reach, says Gaffney. The agency's research found younger Canadians "need a personal connection or experience to feel like they or the organization are making a tangible impact," Agnostic's director of strategy says.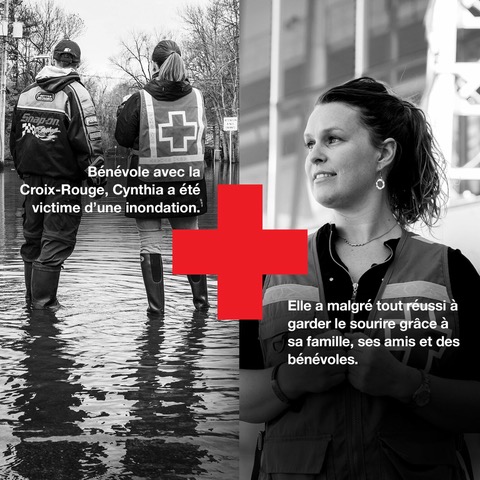 The agency then did in-depth interviews with 15 people for the ads that show real people's real stories from every province. Creative is in both English and French, with Red Cross' French agency Capital-Image also working on the campaign to ensure it wasn't "just translating, but adapting for a French market."

The visual, social media driven campaign was a bit of a departure for the organization with a long and storied history in Canada. But, Falconer is confident that popping up on Millennials' phones between gym selfies and Gomez posts is part of a long-term strategy that will pay dividends down the road.