WestJet renews Las Vegas experiential push
Passengers get access to unique experiences in the city as part of the airline's second destination campaign with Rethink.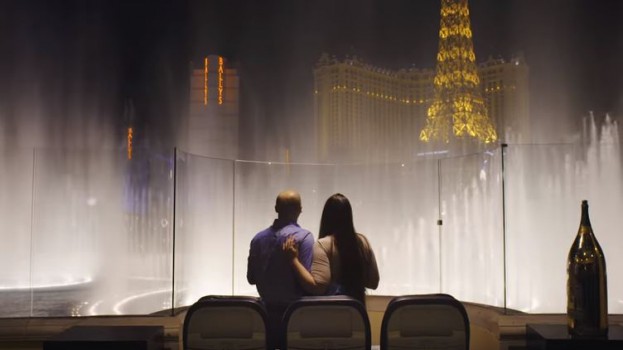 Having made experiential plays a pillar of its marketing strategy in recent years, WestJet is looking to build momentum this summer on the back of last year's Desert Lights campaign.

Launched in partnership with the Las Vegas Convention and Visitors Authority (LVCVA), the destination marketing organization for Southern Nevada, the #WestJetSeatCity campaign saw the airline offer three exclusive experiences to people on a flight into Vegas on April 30.

A campaign video shows three couples searching for their WestJet "seats" somewhere in the city. Each ends up getting a front-row view to one of three different experiences involving the Fountains of Bellagio at the Bellagio Hotel and Casino, a performance by Cirque du Soleil and the mixed martial arts ring of the Ultimate Fighting Championship.

Unveiled on June 12, the spot will receive paid social media and influencer support over the next couple weeks, says says Rob Daintree, director of marketing communications at WestJet. Those who engage with the campaign or show interest in Las Vegas will be retargeted with relevant offers from WestJet down the road, he says.

#WestJetSeatCity is the second experiential campaign on which the company has partnered with the LVCVA and Rethink, which was named its new AOR in April. WestJet worked with the agency on an assignment basis for its "Desert Lights" campaign last year, which featured a kilometre-wide LED roulette wheel that could be seen by passengers of a Toronto flight descending over the Mojave Desert en route to Las Vegas.

Over the last few years, experiential activations have been an important part of WestJet's overall marketing mix, and Daintree says it will "absolutely" continue to play a role in the brand's evolution.

"As the brand transform from a low-cost carrier into a value global carrier," he says, "we want to make sure that we're leveraging a lot of the tactics that have built up our success over the last 22 years, while being mindful of the need to win with new audiences."

As a so-called challenger brand, Daintree says WestJet must do things differently " by definition," and aligning with Las Vegas' high-end experiences will play a role in bringing a premium-feel to the brand. The fact that WestJet has the most international flights into Las Vegas suggests the city holds an important place in the company's long-term business objectives, and was a subject of marketing efforts prior to when it began working with Rethink.

At the same time, its work with companies in Las Vegas helps market the city to Canadians as a premium vacation destination for entertainment, attractions and sporting events, according to Cathy Tull, CMO for the LVCVA.

But the sheer number of partners involved makes execution all the more complex. In addition to Rethink and its other agency partners, including Media Experts on media, WestJet worked with the LVCVA and its own marketing agency to coordinate with partners in Las Vegas.

Working in a multi-multi-stakeholder environment means needing to manage execution closely and carefully, says Daintree, but having worked with some of the same partners last year helped facilitate the process with #WestJetSeatCity.