Cannes 2018: Behind an ad that won Young Lions Silver
The winners from McCann discuss their idea that normalizes those with intellectual disabilities joining the workforce.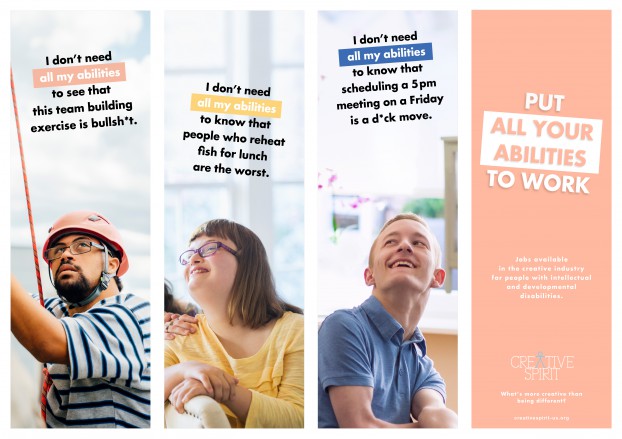 Édouard-Jean Coune and Mourad Bouaziz were the only French-speaking Canadians in this year's Young Lion pack. So when the five teams arrived in Cannes to find an issue with their hotel, the others naturally looked to the McCann creatives to find alternative digs as they took on the role of translator. A simple task in any normal travel scenario. Less so when you've just been briefed to come up with a Cannes Lion-winning ad in 24 hours, while also battling no sleep and jet lag.
Some might say they'd never stand a chance. They would be wrong.
On Tuesday in Cannes, the Montreal pair picked up Canada's first trophy after producing a series of ads that saw the judges award them a Silver in the Young Lions Print competition.
"It turned out for the best," said Bouaziz. "That little stress factor, maybe it helped."
Coune, an art director, and Bouaziz, a copywriter, told strategy the following day that they were inspired by a video produced by the Young Lions client partner Creative Spirit, a non-profit devoted to creating employment opportunities for those with intellectual and developmental disabilities (IDD).
The insight, given to the 72 competing teams from just as many countries, was that people with disabilities don't just want a job that puts them on the payroll. They also want to feel that they belong in the workplace among co-workers who treat them like ordinary people.
Their idea was to mimic the humorous tone taken in the spot showing people with IDDs as they talk about their experiences interviewing with creative directors at various agencies.
"[Creative Spirit] wants to focus on [IDDs'] abilities and what those people can do. And when you see them on video, they are so funny, friendly and have no filter. We almost never see that in advertising with those types of individuals," said Bouaziz.
During the 12 frantic brainstorming hours, the team came up with an idea to spoof motivational photos (taken from sponsor Getty Image's archive) with tongue-in-cheek copy that also has no filter and shows people with disabilities have "all the abilities" to work.
"They gave us statistics that show a majority of people with disabilities don't work and most are lonely. Most of their social life is focused on their families," said Bouaziz. "So we took that in mind and we tried to present the workplace not as something perfect. It's just a regular place and you'll get to do regular stuff. We don't want to treat them as special people. They're going to bitch and complain about things just like [anyone else]."
The lines were crafted to empower those who may be too afraid to enter the workforce, shifting the perspective by focusing on their abilities rather than their disabilities, he added.
Coune believes their ad's dual messaging, speaking to those with disabilities as well as the general public, is what set them apart from other contenders in the category. "The tricky part was talking to people with disabilities. It wasn't companies or caretakers, it was the audience with IDDs," he said.
"Some people focus more on that second message and didn't get the main message through, and so there was no call-to-action to apply [for a job]," added Bouaziz, noting that he was impressed by the strength in art direction and clever metaphors used to communicate Creative Spirit's "What's more creative than being different?" messaging. "But they were off brief and didn't talk to people with IDD."
"I would say keep it more simple [next time]," said Coune when reflecting on what they would have done differently. "One impactful line would have helped. The main thing is to be on brief. Even if you have a good idea and it's not on brief, don't do it."