Penguin Random House turns every commute into a journey
The publisher targets Toronto drivers and TTC riders to promote its selection of Canadian-produced audio books.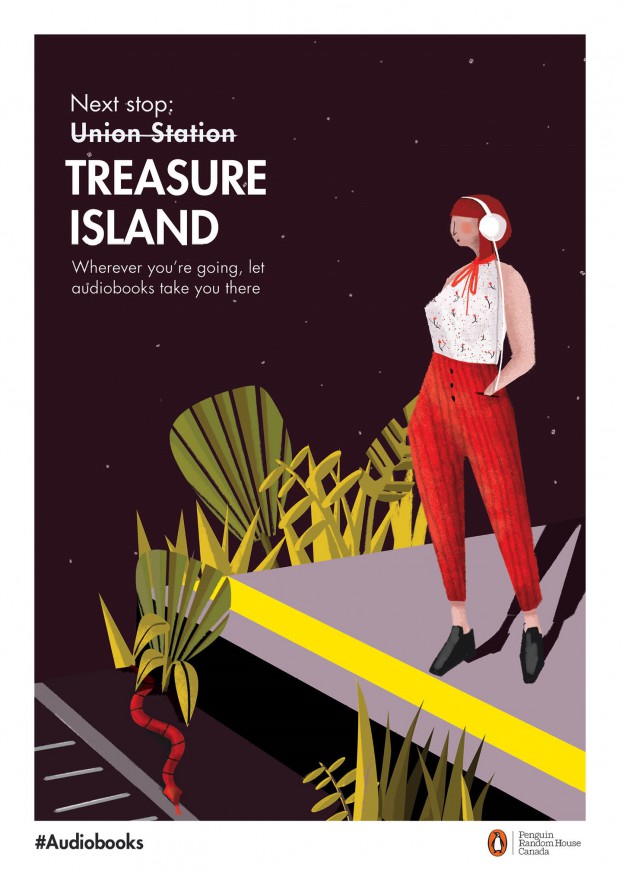 Penguin Random House is hoping to capitalize on the growing interest in audio books with a new campaign that shows time-strapped Torontonians just how easy it can be to dive into a good read while they are commuting.
In transit ads and wild postings across Toronto, creative shows people with headphones on as they wait for the subway or streetcar. Copy reads "Next stop" above the name of a TTC station or neighbourhood, but it is crossed out and replaced with the name of one of Penguin Random House's classic titles, elements of which are also incorporated into the creative. The message is that no matter where you are going, audio books can help you get there.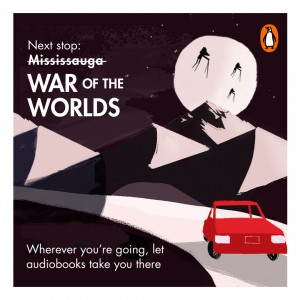 Social ads on Facebook and Instagram (pictured, left) take the same approach, but focus more on drivers and reference locations farther outside Toronto's core, like Mississauga.
Kate Sinclair, an in-house designer at Penguin Random House, created the visuals for the campaign, with agency Grassroots supporting on the wild posting execution. The publisher handled its media buy internally.
Canadian e-reader company Kobo launched its own audio book service in September, just days before Audible – well-known in the U.S. market as a fixture in podcast advertising – made its service available in Canada for the first time. Penguin Random House has offered audio books going back to the days when it was on cassette tapes, but as new competitors were entering the market, it launched a program to create Canadian-produced audio books, bringing Canadian authors, actors and public figures to an in-house studio to provide narration for new releases and classic literature. Penguin Random House's audio books are available via several e-retailers, including Kobo, Audible and iTunes.
Beth Lockley, VP of marketing at Penguin Random House, says there is clear demand for audio books in the Canadian market, pointing not just to the arrival of new services but the growing popularity of other audio formats, like podcasts and even voice assistants like Alexa.
"I think there's been a huge shift in consumer behaviour to all things audio," she says. "It gave us a marketing opportunity to do something that was quite unique for us."
Lockley says most of the publisher's marketing has typically put a book, its subject matter or author at the forefront. But for this campaign the ads mostly reference classic literature so it can focus on the audiobook format as a whole, instead of a feeling like promotional piece for a new release.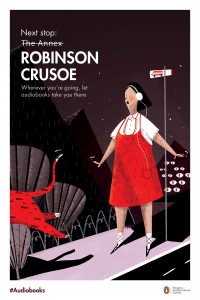 One of the things the company hears most from Canadians, Lockley says, is that a lack of time is the biggest reason why they don't read more.

"We wanted to demonstrate that any time can be used as reading time because [with audio] you can do any kind of task while also 'reading a book,'" Lockley says. "The one thing everyone in Toronto has in [common] when it comes to time is that most of them are spending a good portion of it commuting in some way or another. That's why our messaging was around a book literally taking you where you are going."

She adds that this is phase one of its audio book strategy, as there are opportunities in the future to focus in on more targeted consumer segments by depicting other activities that are also a perfect time to catch up with an audio book, such as taking care of a newborn, going to the gym or walking a dog.

The campaign is targeting Toronto at first, as it is one of the company's largest markets. Lockley says the publisher will look at results to help shape how it might bring the campaign to other Canadian markets.