Grayes has a bright new campaign
The Canadian workwear brand enlists four "driven" women to design and model pieces for its new capsule collection.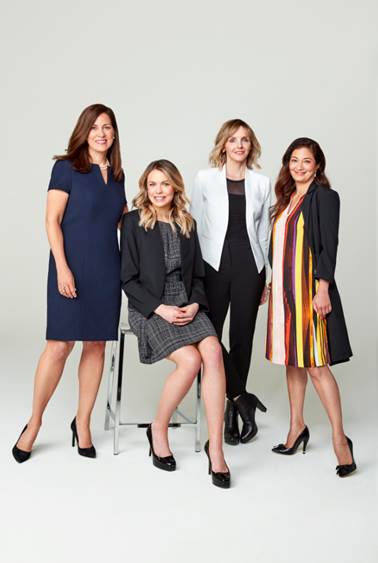 Nine-to-five fashion can be both functional and fashionable.
Grayes, a Toronto-based workwear brand, enlisted four of Canada's "boldest bosses" to be the engine behind its new campaign, "Driven by Grayes." The online retailer teamed up with agency Eighty-Eight on the campaign.
"We were just looking for something new and exciting to do as a brand," says Stephanie Ray, the founder and chief visionary of Grayes. "[And] what was really important to our customers and really resonated with them was trusting their peers – looking to other women for tips and advice on where to shop for workwear and what brands they respect and admire."
So Grayes, which is targeting professional women of all ages and industries, found four "driven" Canadian women at the top of their games to participate in "Driven by Grayes" by also designing pieces as part of a new capsule collection.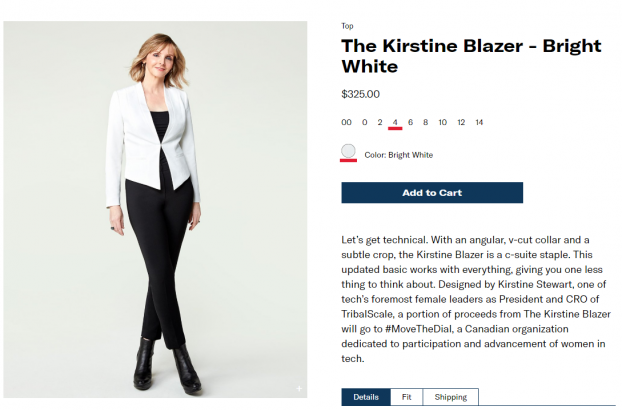 Kirstine Stewart, president and CRO at TribalScale and TribalScale Venture Studios and a former executive at Twitter, helped design a fitted white blazer and modeled it with black top, pants and booties for Grayes.
Laura McGee, consultant at McKinsey & Company and the co-founder of #GoSponsorHer, as well as the founder of Summit Leaders, helped design the Laura Dress and promoted it on her Instagram.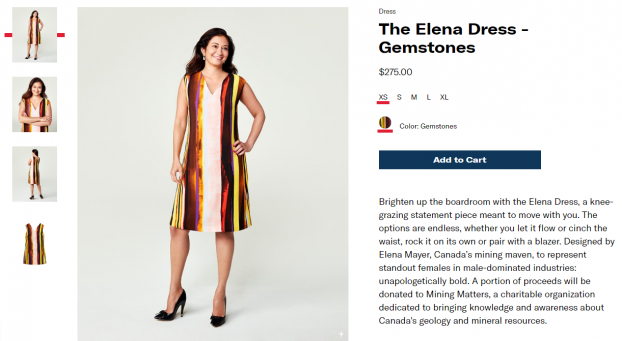 Elena Mayer, senior manager, client relationships, mining at PwC and president and CEO of Women Who Rock, brought a pop of colour to the capsule collection with a dress she modeled that can be worn loose or belted.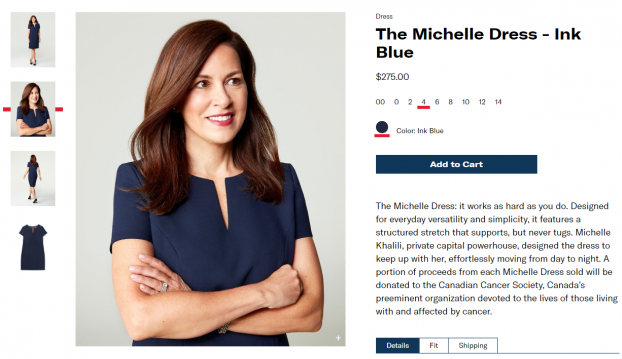 And, finally, Michelle Khalili, a private capital veteran, helped design an ink blue sheath dress that would fit right in at any boardroom or bar for after-work drinks.

Showing "real women" as opposed to models in ads for products aimed at female consumers has become more popular in recent years. Brands such as American Eagle's Aerie lingerie brand to Nike to Dove have found ditching traditional "models" for women with life experience and perhaps a curvy bottom has been good for the bottom line.

Ray says depicting real career women has been a ray of light during turbulent times when women have started to band together.

"As a brand we're really focusing on empowering women and really supporting each other, so with this campaign it was really nice to have these women support me as an entrepreneur," says Ray.

In addition to supporting fellow women, a portion of the sales from the capsule collection goes to charities the four "Driven by Grayes" women feel passionate about.

Enlisting Stewart, McGee, Mayer and Khalili to be a part of the entire process, from helping with designs to modelling to promotion to choosing charities, was important to Grayes' founder.

"We really focused on wanting to get professional women who reflect and embody our customer to be a part of the whole process," she says.

The result is a first-of-its kind campaign for the workwear brand, which Ray started nearly two years ago. Campaign images and videos have been posted on Grayes' retail website and social media channels. The four "Driven by Grayes" women are also promoting the campaign on via their own social media networks.

"It's been going really well and we've been getting really positive responses from our customers excited to support these women and their various charitable organizations," says Ray. "I think that was something really nice for our customers to see."