Zulu Alpha Kilo celebrates 10 years in business
A decade of non-conformity, creative disruption and sticking it to the (ad) man.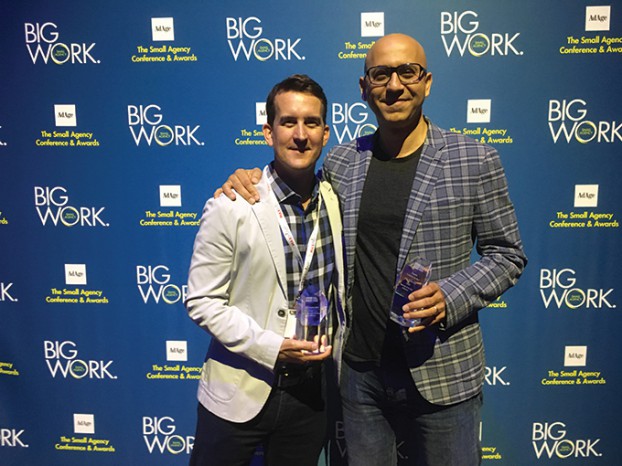 Mike Sutton (left), president of Zulu Alpha Kilo, and Zak Mroueh, CCO, CEO and founder of Zulu, pose with their Ad Age 2017 International Small Agency of the Year awards.
This story originally appeared in the Summer 2018 issue of strategy.

Zak Mroueh was fired at 22-years-old for being too "creative." Thirty years later, the same creative streak that got Mroueh canned has helped the 52-year-old build Zulu Alpha Kilo, which celebrates it tenth anniversary in July. He started out in Saatchi & Saatchi's mailroom, then moved on to a junior copy editor gig at a now-defunct agency when he was shown the door.
"Once you've been fired, it's liberating because you think, 'What's the worst thing that could happen? I could get fired.' I guess that's where it comes from for me – not being afraid of the outcome," Mroueh tells strategy in a boardroom at his agency's downtown Toronto office.
Releasing himself from the fear of failure has led to great success. Speaking out against spec pitches was scary. He did it anyway. Eight years ago, his shop stopped participating in the age-old tradition, which he has publicly denounced.
Even the prospect of not being able to pick up new clients didn't stop him from taking a stand.
"I think that by liberating yourself from the fear, it lets you do the right thing. I think a lot of agencies live in fear – fear of New York, fear of the holding companies," Mroueh says. "I guess for us, we just want to do what we believe is right."
When visiting Zulu's office, it's clear – from an in-house café and a Mad Men-themed room to a drum kit adorned with the agency's band name "Zuligans" – that this is not your average creative agency.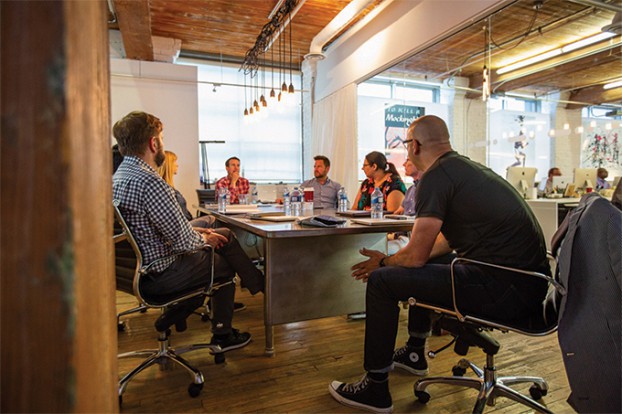 Zulu went from 12 staff in 2008 to over 100 today and boasts an annual revenue of $20 million, says Mroueh.
That growth has led to Zulu winning prestigious titles, such as Ad Age's Small Agency of the Year in 2016 and International Small Agency of the Year in 2017.
In its 10 years, Zulu has amassed over 1,000 awards, including merits and shortlists, both locally and internationally.
In 2014, the award-winning agency branched out and launched Zulubot, an in-house content creation and production studio that now includes seven editing suites and a state-of-the-art audio recording studio.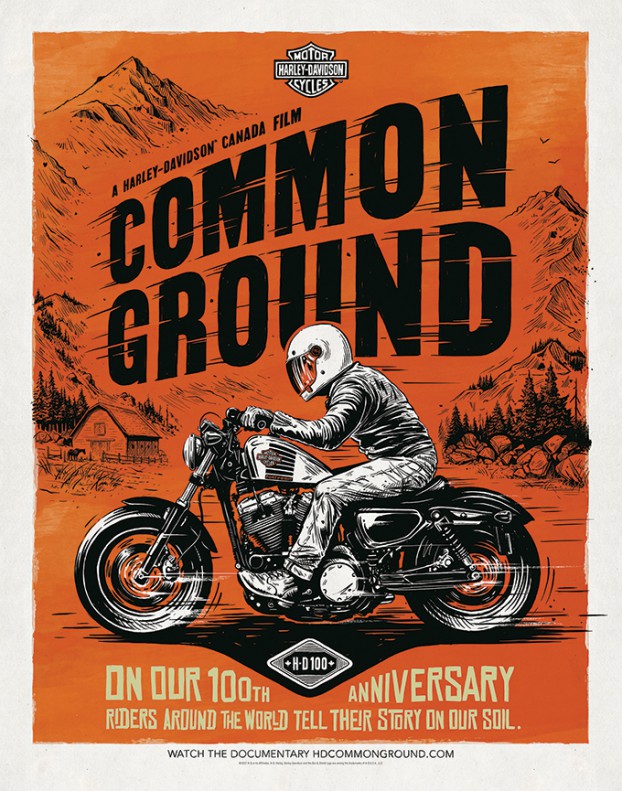 The division has helped the agency break into the branded content scene, from CAMH's "Mental Health is Health," highlighting the discrimination experienced by those with mental illness, to the Harley-Davidson digital documentary series, Common Ground, which was featured on the Discovery Channel.
"In terms of growth, it's got the biggest potential," Mroueh says of the studio. "I can see Zulubot eventually someday being bigger than Zulu Alpha Kilo the agency."
Years after getting fired, Mroueh's career trajectory took another big swerve. This time he was in the driver's seat when he chose to leave his position as CCO at Taxi in 2007, even though colleagues and friends warned him to pump the brakes on such a bold move. But, while staring down middle-age, he took his own route.
"I was about to turn 41, and I thought, 'Is this all there is?' I had been doing this for nine years, really proud of what we'd built, but I could see what the next year looked like and I knew the company was eventually going to be sold," recalls Mroueh about his bold decision. "And I remember there was a moment when I imagined myself [at] 50 and never having built my own thing."
Today, paving its own road is what Zulu does best, right down to the way its headquarters are designed. There's a café that once housed a gym, as well as a noticeable lack of awards or Zulu-created campaigns on the walls. Instead, they're filled with posters of an eclectic mix of cultural disruptors, from director Stanley Kubrick to Canadian icon Terry Fox to guitar God Jimi Hendrix.
"When people walk into the agency, I don't want it to feel like an agency," Mroueh says. "I want it to feel like you're not really sure what kind of company we are: 'Are we a design house? Are we an architectural firm?'"
When Zulu was first figuring out what kind of agency it was, one of its first projects was "THINK Box," a social experiment in which ordinary Torontonians could have their problems creatively solved by Zulu in 20 minutes – all from inside a room-sized box in the middle of Yonge-Dundas Square. Zulu solved over 20 problems in one day, later turning the project into an award-winning website.
"It was all about a belief that, sometimes, the hardest part is figuring out what the question you're trying to solve is," says Mroueh. "Ideas need to happen fairly quickly and a good strategy should elicit good thinking. It also informed my philosophy [of] thinking inside-the-box versus thinking outside-the-box. When you know the parameters of the problem it forces you to be more creative."
At this point, Zulu had only been operating for four months, but Mroueh says the methodology stuck.
Since then, major campaigns for Harley-Davidson, Interac, Audi and Tim Hortons have helped strengthen the Zulu brand. The agency's counter-intuitive approach was apparent in its Participaction campaign, which urged people not to visit the non-profit's website, as well as when it fought back against entrenched credit card companies with "Be in the Black" for Interac.
Over the years, Zulu has picked up a slew of big name clients, including Whirlpool, Uber and Nikon.
Long-term client, Bell Canada, has long appreciated the small agency's personal touch. Devorah Lithwick, SVP of brand for Bell, sees the agency as being responsible for creating a platform and brand positioning that has stood the test of time.
"Even with the agency's growth and success, Zak's personal involvement and dedication to drive Bell's business growth has never diminished," Lithwick says.
In its early days, David So, the CFO and COO, says Zulu focused on "smart growth" by putting a moratorium on new business after it picked up its first few major clients. The smart strategy paid off, with the agency growing at its own pace.
Zulu will soon be creating a 10,000-square-foot workshop on its upper floor, where creative and strategic teams can showcase campaigns-in-progress to clients.
"It does feel like we [have] this momentum [and] that we're the only ones that can stop it," Mroueh says. The agency founder recognizes the importance of quality over speed, saying he'll only expand into other markets once Zulu is "recognized as the best agency in the world."
"To me, until we get to that point where we can say we're the best agency globally, then I [don't] feel we have the right to open up somewhere else."
Once Mroueh can say Zulu is no longer seen as a small agency, but simply a great agency, Mroueh says he'll likely show himself the door this time around, noting that: "We're still on the mission to get there. We still have a long way to go."
Starting anew
When first entering Zulu Alpha Kilo's headquarters, visitors are greeted with a painting first started by Zak Mroueh back in 2008.
The painting has come to symbolize Mroueh's belief in both synchronicity and new beginnings. Sparked by his desire to visibly set his agency apart from the others, the painting became a way for people to participate in the creative process taking place within its walls. New business clients, Mroueh's own family, staff and even Prime Minister Justin Trudeau would all go on to make their mark on the large canvas displayed in the agency's lobby, a process which has been recorded on camera over the years.
Then, in 2015, Mroueh decided to paint over the colourful artwork, covering it in a layer of clean, white paint. He always knew he would paint it over, something he says represented a rebirth.

Zulu's president Mike Sutton describes the agency as having moved through several phases, from its chaotic start-up era with big ambitions and a small number of resources, to a gangly teen that makes mistakes and learns from them.
"You can see potential and growth when you're an adolescent, but arms and limbs aren't all the same size," he says. "I think around 2015 to 2016, at least for me personally, I started to realize, 'We're starting to become a really mature company now.'"

With ten years under its belt, the mature company continues painting its own story – both on and off the canvas.