New Product Spotlight: A&W serves a buzz-worthy veggie burger
Plus, Moosehead pushes sparkling water and Bertolli sauce hits Canadian shelves.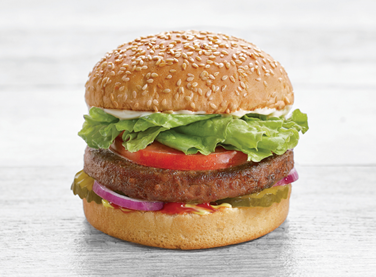 A&W goes Beyond Meat
Beginning on July 9, vegetarians will have a new option to sink their teeth into when A&W locations across Canada add the Beyond Meat burger to its menu.
Founded in Los Angeles in 2009, Beyond Meat has garnered a great deal of attention for its vegetable-based meat alternatives that consumers and reviewers (as well as some high profile investors like Bill Gates, Biz Stone and Tyson Foods) have claimed to be indistinguishable from real meat. In the U.S., Beyond Meat products are available in restaurants like TGI Fridays, movie theatres such as Alamo Drafthouse and sports venues like Yankee Stadium. However, A&W is the company's largest restaurant partner and the first national burger chain in Canada to offer the Beyond Meat burger.
The burger is made from protein-rich crops like peas and mung beans, and at A&W, it will be served with lettuce, tomato, red onion, pickles, ketchup, mustard, and mayo. The QSR has long offered the Veggie Deluxe burger as a vegetarian option on its menu, but Susan Senecal, A&W Canada's president and CEO, said in a press release that the company wanted to bring this burger to its menu because of its taste, the ability to tap into the buzz around Beyond Meat and to give customers "a range" of menu options to try.
Moosehead brings Truly Spiked & Sparkling to more provinces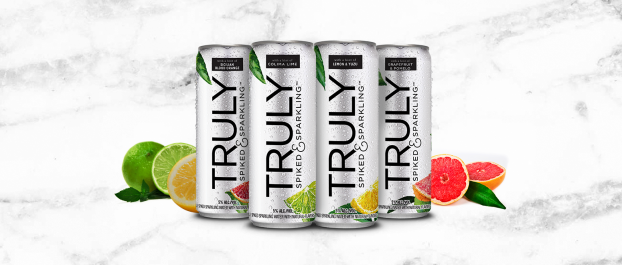 Moosehead Breweries is continuing to grow into alcohol categories beyond beer by expanding the availability of Truly Spiked & Sparkling this summer.
Truly Spiked & Sparkling is a spiked sparkling water, and is positioned as a lighter alternative to wine, beer or cocktails in social settings. Each 355ml slim can contains 100 calories, one gram of sugar and two grams of carbs, and is 5% ABV. It is free of artificial sweeteners, flavours or high-fructose corn syrup, and is available in four flavours: Colima Lime, Grapefruit and Pomelo, Sicilian Blood Orange and Lemon and Yuzu.
The product has been available in Western Canada for roughly a year, but Moosehead is bringing it to shelves in Ontario, New Brunswick and Prince Edward Island as of June. It will also receive its first national marketing efforts, including influencer relations, sponsorship of bike rides and golf tournaments and pushing the "#LiveTruly" hashtag at event and digital channels.
The Truly Spiked & Sparkling brand first launched in the U.S. in 2016 through the Hard Seltzer Beverage Company, which is an affiliate of the Boston Beer Company. Moosehead has been distributing and marketing several of the company's brands in Canada since signing a distribution deal in 2010. Today, that deal includes the Samuel Adams beer brand, but also ones in other alcohol categories, such as Twisted Tea hard iced tea, Angry Orchard cider and Coney Island Brewing Co. hard sodas.
Bertolli pasta sauce comes to Canada
Bertolli is already a staple of many Canadian pantries thanks to its olive oil and vinegar products, but now the 150-year-old brand has made a selection of its pasta sauces available in the Canadian market for the first time.
Six varieties – Tomato & Basil, Olive Oil & Garlic, Five Cheese, Marinara, Creamy Alfredo and Garlic Alfredo – are now available at most major grocery stores. The Bertolli brand has been selling a range of pasta sauces in the U.S. market since 2001, and aims to reflect that same "simple goodness of Tuscan cooking" that has defined the positioning of its oil and vinegar products by using only a few quality ingredients, cooked lightly in olive oil.
First founded in 1865 in Tuscany, the Bertolli brand was eventually acquired by Unilever. In 2014, the North American pasta sauce portion of the Bertolli portfolio was sold to Japanese company Mizkan.