Tech in Action: Alexa helps feed fussy babies
Baby food brand Sprout develops a voice skill to make meal time a bit easier for parents.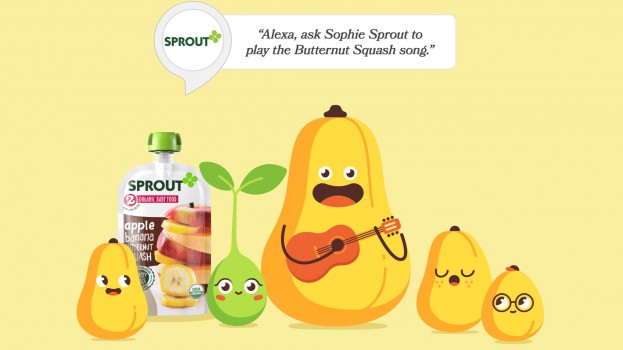 Simply getting a spoonful of food to stay in a child's mouth can be one of the hardest tasks a parent can deal with. Luckily, the much-touted capabilities of voice-powered assistants might have a solution for that as well.
Sprout, a U.S.-based organic baby food brand, worked with New York agency Walrus to develop an Alexa Skill called Sophie Sprout. When initiated, the titular Sophie can play one of nine songs that talk about how good healthy food is – as well as subtly tell kids to eat those healthy foods through the song lyrics. Sophie Sprout also has the option to "go on an adventure," a variation on a classic parenting trick where Sophie will encourage kids to pretend their spoon is an airplane or train reaching its final destination in their mouth, complete with sound effects.
The idea is that the voice app will give parents a tech-forward yet screen-free helping hand in making meal time go a bit smoother, which could be a great help if they are occupied with other tasks.
As the household penetration of Alexa and other voice-powered platforms continues to increase applications for families with young children have become increasingly popular.
There are also plans to launch Sophie Sprout as an app on the competing Google Home platform at some point in the future.