Mill St. makes its core lineup certified organic
The brewer is promoting the change by rebranding the beers and launching a new campaign.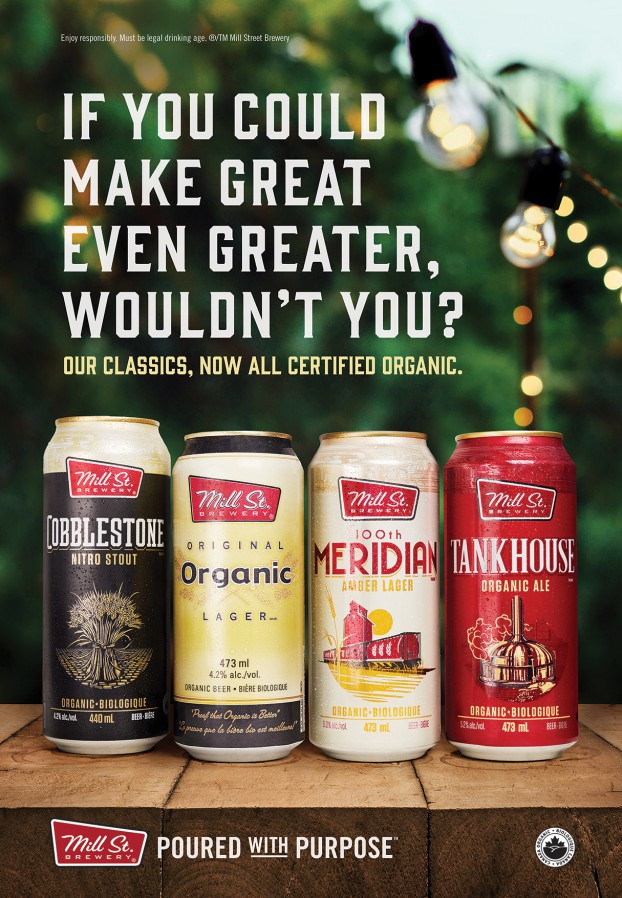 Mill St. Brewery was one of the earliest craft brewers to consistently give beer drinkers an organic choice on store shelves, and now it's taken the steps to ensure its core lineup of brands gives consumers the same level of choice.
Announced last week, the brewer's Cobblestone Stout and Tankhouse Ale join the Organic Lager and 100th Meridian Amber Lager as being certified organic (according to the Canadian Organic Standard), while also supporting sustainable farming and environmental practices.
Mill St. brewed its first organic beer in 2002, and the Organic lager has been the brewery's flagship product ever since. It added the organic 100th Meridian lager as a permanent fixture of its core lineup in 2014. Joel Manning, head brewmaster at Mill St., said the brewer – which was purchased by Labatt in 2015 – had wanted to make Cobblestone and Tankhouse certified organic for some time, but it was difficult to secure a consistent, long-term supply of organic ingredients used in those beers.
But the process was worth it to answer consumer demand. According to Mill St.'s own research, one in four Canadians believe there is a lack of organic beer options. Among those, 76% want more beer options that are considered clean and organic, while 74% expect organic beer options to increase as organic food and beverage options become more easily available.
"We've seen the organic market grow, and our brands that are organic have grown with it," Manning says. "We make a lot of different beer, so doing what we can to bring options and innovation and choice for customers has always been important for us."
While the look of Organic has stayed largely the same, Mill St. has refreshed the other three brands in its core lineup.
Working with agency Hired Guns to handle the redesign, the cans retain references to images from their previous branding, while simplifying the overall design and making the name of the beer front-and-centre. They have also been designed to share common elements, such as the positioning of the beer's name and the Mill St. logo, to make each of them distinct, but still recognizable as a "Mill St. beer." Tankhouse and Cobblestone have largely had the same design since they were first launched in 2003 and 2004, respectively, and Manning says the refresh should help consumers notice its change to organic.
"When those beers came out, [the market] was nowhere near as crowded and there wasn't this sheer volume of beer choice in front of consumers," says Manning. "People in this space tend to look for what's new, and tend to ignore what's been around for a long time. We want to remind people that we're there."
The change is also coming with a new ad campaign that launched on Canada Day weekend and runs through September in out-of-home, digital and social channels. All of the ads focus on the new look of the core lineup, as well as reinforcing Mill St.'s long-term commitment to both organic brewing and quality.