Tennis Canada creates its own beat
The organization is capitalizing on the success of stars on the international stage to motivate involvement at the amateur level.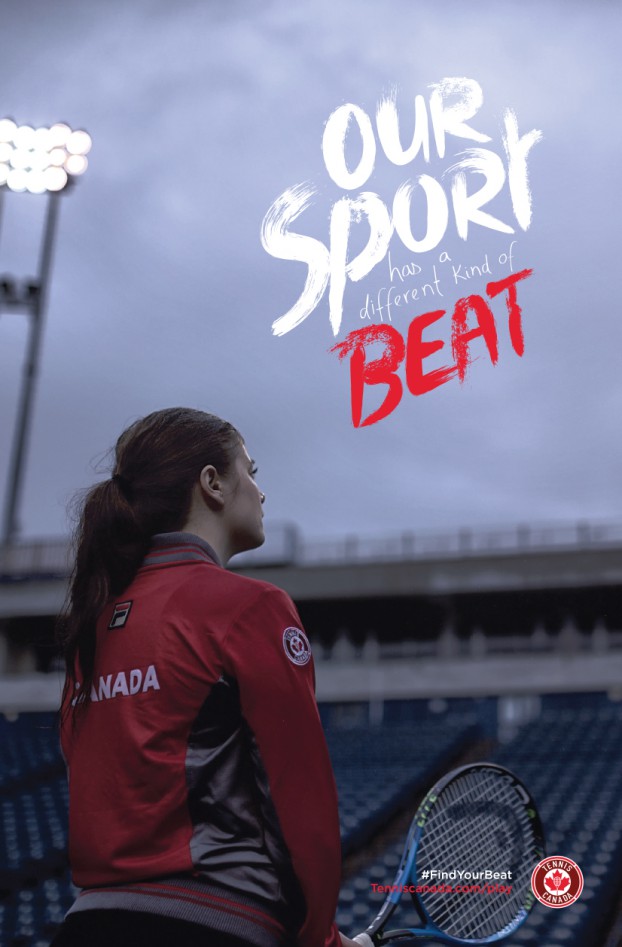 Tennis Canada's mission is get more people involved with the sport, and it's hoping leveraging the success of Canadians on the global circuit can help it do that.

In a new video as part of its "#FindYourBeat" campaign, sounds of the tennis court – like the ball bouncing off the court or the strings of the racket – form the soundtrack over shots of players training as they are gradually inter-cut with players performing and succeeding in front of thousands of fans. The video shows all levels of competitive tennis, from established pros like Genie Bouchard and Milos Raonic, to up-and-comers like Denis Shapovalov and Félix Auger-Aliassime, to amateurs still looking to make a name for themselves.

There are 30- and 60-second versions of the video airing on TV and digital channels, as well as print ads (seen above). In the spring, Tennis Canada began teasing the campaign with shorter videos focusing on each player in the campaign, and will release another video closer to the Rogers Cup. The organization handled the media buy internally, but worked with Dot Dot Dash on creative and North Strategic on PR.

Ben Makarenko, director of marketing for Tennis Canada, says the goal of the campaign is to continue some of the organization's momentum from its rebranding in 2015, which aimed to bring "Canadian elegance and athletic edge" to its communications. But more than that, it's looking to capitalize on the success of Canadian tennis players on the national and international stage to continue to grow amateur participation in the sport.

"We wanted to include people at all competitive levels," Makarenko says. "If we had this conversation last year, you wouldn't have heard of Denis before, but now he's a household name. It's a bit of a different approach, to not just have a bunch of tennis shots, but showing the training and other elements as well. We're looking to build that narrative of what they go through to break out like that."

According to Tennis Canada, seven million Canadians currently play tennis, up 30% from five years ago. Among youth players, the numbers are up nearly 300%. Makarenko attributes the surge in popularity to the success of players like Bouchard and Raonic, saying he has also heard anecdotally from coaches and tennis pros affiliated with Tennis Canada that youth engagement went up following Shapovalov's upset victory over Rafael Nadal at last year's Rogers Cup.

"We couldn't have done this campaign 15 or 20 years ago," Makarenko says. "Now we have a list of top performing athletes in the world and we want to leverage that to keep growing the game."

Now that there are international stars to point to, Makarenko says the biggest barrier to building participation is the investment in covered courts and making tennis more accessible. Currently, there are roughly 650 covered courts in the country, but the organization hopes that growing interest in the sport will double that number, turning tennis into a sport that can only be played in the warmer months to one that can be played year-round in Canada.