Facebook launches shoppable AR ads
Brands can bring virtual trial to users' News Feeds and direct them to an ecommerce platform.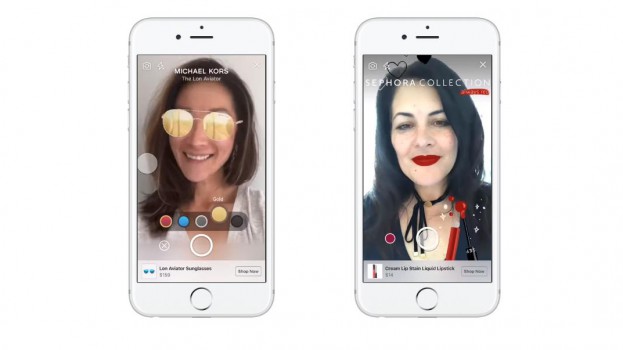 Facebook is looking to take advantage of the growing engagement opportunities in augmented reality (AR), bringing shoppable ads that utilize AR directly to users' News Feed.

After a seeing a product on their News Feed, users can click to use AR to virtually test the product, and then be redirected to an ecommerce site to make a purchase. They can also take a photo or record their experience with the ad and share it to their Story or with friends through Messenger (as well as add stickers that include the brand and product name).

The company selected fashion brand Michael Kors to be the first to test the feature, allowing users to try on a pair of sunglasses shown in an ad. This summer, it will be testing the ads further with Sephora, allowing users to try on makeup products, and Wayfair, giving customers the chance to see how pieces of furniture might look in their home.

Those type of AR functions have previously been popular ways for brands to use AR to engage with customers. But bringing them to Facebook's News Feed helps increase discoverability, and incorporating a call to action directly within the AR experience encourages users to "seamlessly go from engaging with your product… to making a purchase or installing an app," according to a blog post announcing the feature.

Facebook will also be working with brands including Pottery Barn, NYX Professional Makeup, Bobbi Brown and King to test the new ads, with plans to bring it to other industries through the rest of the year. Facebook previously touted the possibilities around incorporating AR into its platform at this year's F8 developer's conference.

Rival platform Snapchat launched its own shoppable AR ads in the spring, with the company saying in May that more than 100 advertisers were buying the units programmatically.