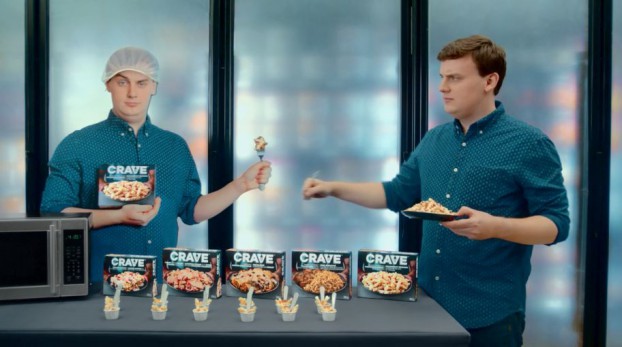 Kraft Heinz has launched a new brand in the frozen foods category with the support of a national campaign that began airing last week.
The new brand, Crave, is a premium line of frozen meals containing more indulgent (read: "craveable") ingredients, such as as bacon, pulled pork and sausage, but that contain no artificial flavours or colours. Kraft-Heinz began rolling out five different meal varieties in March, including sweet and tangy pulled pork with spicy sweet potatoes, white cheddar macaroni and cheese with bacon and creamy chicken enchiladas.
The launch follows Kraft Heinz research that showed Canadians often feel they must sacrifice taste and experience when looking for convenience in the frozen aisle, says Daniel Gotlib, Kraft Heinz Canada's senior manager of brand building and innovation for meals and spreads.
"We really see Crave as being that opportunity and that solution to that consumer tension," he says. The new product line allows consumers to "unapologetically dive into taste."
A campaign by Rethink supporting the launch went live on July 11 and includes 15- and 30-second TV spots (in English and French), as well as out-of-home executions, digital ads and in-store signage and promotions.
The spot, called "The Aisle," features a man walking through what he calls the frozen "food" aisle – he uses quotation marks on a few occasions – and telling viewers that Crave is about to take that aisle "by the snow balls."
The lighthearted approach to the creative is meant to signal that Crave is "disrupting" the category by being "unapologetic and bold about our ability to drive relevance with our consumers through our ingredients and our varieties," says Gotlib.
Kraft Heinz has previously played in the diet frozen foods space, but Crave is meant to fall more within the mainstream, he says.
While consumer trends have shown people drifting towards healthier food options, Gotlib believes there is still a place for more taste-forward frozen foods.
"Consumers totally have their moment for better-for-you products," he says, "but they also told us that, sometimes, they just want something that tastes ridiculously good, and that is the moment for Crave."
Shikatani Lacroix worked on the brand positioning and packaging design. Based on having defined Crave's target market as evenly split between men and women, the agency presented Kraft-Heinz with three distinct brand positions, before landing on one that incorporate elements of all three.
Starcom is leading on media and The Colony Project on PR.