Campaign shows how plastic sucks life from oceans
As QSRs roll out straw bans, Greenpeace launches a series of ads to get people to think about "throwaway plastic."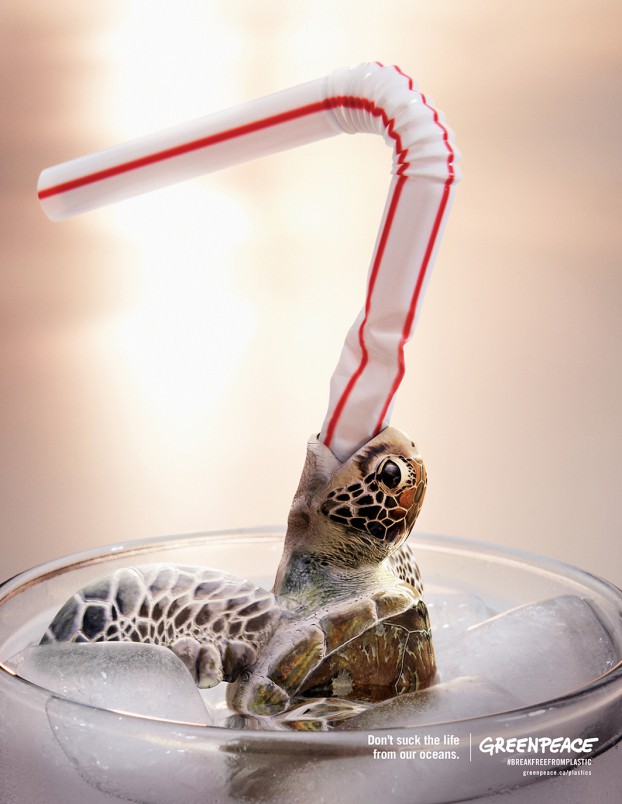 Greenpeace Canada is the latest organization to launch a campaign addressing the issue of ocean plastics.
Working with agency Rethink, Greenpeace created a series of ads that use hard-hitting images of sea-faring animals with plastic straws protruding from their mouths. The message is that when you suck your drink from a straw, you're sucking the life out of the oceans.
Eliminating plastic straws has become an environmental cause with a lot of momentum behind it. The City of Vancouver and European Union were some of the earliest government bodies to vote on plastic straw bans earlier this year. A&W was the first North American QSR to commit to phasing out plastic straws in June, and has since been joined by the likes of Starbucks and Recipe Unlimited (formerly known as Cara), which owns restaurants including Harvey's, The Keg, Kelseys, New York Fries and Swiss Chalet.
However, many disability advocates have pointed out that straws are an accessibility issue, and many of the current alternatives to plastic are not viable for many people. That has led advocates to push for more research into plastic alternatives that are more realistic for people with disabilities, or encourage QSRs to adopt an "opt-in" policy and only give straws to those who ask for them, instead of an outright ban.
Sarah King, head of oceans and plastics campaigns at Greenpeace Canada, says the campaign is not just about straws, and that one of the organization's goals is to get people to consider other forms of "throwaway plastic."
"Businesses large and small need to rethink their plastic usage overall," she says. "Straws are a great way to start the conversation but all throwaway plastic, like lids, cups, containers, and packaging, is fueling the plastic pollution crisis. We need to see companies innovating beyond plastic and truly reducing their massive plastic footprints on our blue planet and communities."