National Bank hosts a literal elevator pitch
The bank gives founders a platform at StartUp Fest as part of ongoing efforts to reach aspiring entrepreneurs.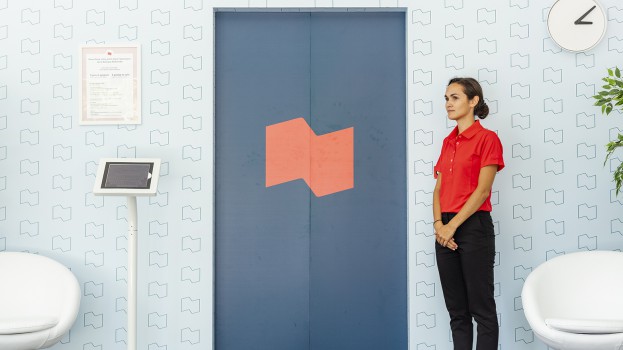 National Bank has been on a mission to connect with small business owners, most recently by making the figurative "elevator pitch" a reality.

During StartUp Fest in Montreal earlier this month, the bank worked with Sid Lee to create a booth that looks like an elevator outfitted with a camera. The legions of entrepreneurs and startup founders at the conference could go into the booth and record a one-minute pitch for their business. Each pitch was evaluated, and some of the participants were given the opportunity to do their pitch again, face-to-face, with investors from National Bank. Some of the participants received funding for their project or prizes totalling $15,000.

National Bank spent the week promoting the booth to local attendees on social, namely through Instagram Stories.

Design and manufacturing of the booth was handled by Montreal's Robocut Studio.

Reaching business customers has always been a part of National Bank's marketing efforts, but the activation is part of a recent focus on being "louder and bolder" with its efforts to reach aspiring entrepreneurs. In June, the bank and Sid Lee launched the campaign by taking over window space in vacant storefronts with ads that were – much like the elevator booth – part of a strategy to be less traditional and more aspirational.

Sid Lee has also been working with National Bank on social content that aims to show aspiring entrepreneurs how to go "beyond the pitch" and make their ideas a reality. Last week, National Bank also released a short trailer for "Surf Inc.," an upcoming branded content series that spotlights stories of entrepreneurs who found success by travelling abroad.