Why BMO brought Smart Branches to Canada
The bank is exploring ways to utilize its physical branches with a new concept that aims to deliver a better customer experience.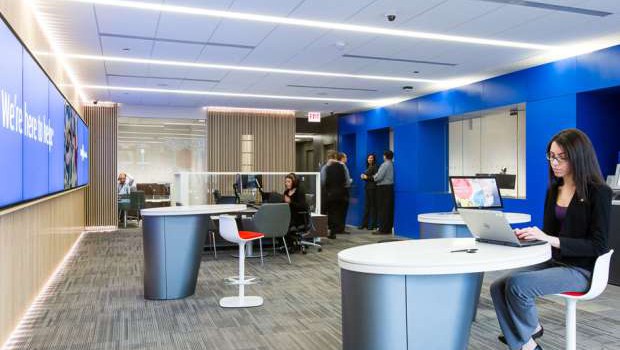 Earlier this month, BMO opened three new locations that utilize its Smart Branch format – one each in Calgary, Edmonton and Winnipeg.
Smart Branches have a smaller footprint and an open concept design that does away with teller windows and lines. Instead, they feature several "work stations" where customers can discuss financial needs in a more relaxed environment (though the branches do feature some meeting rooms to discuss more private financial matters). Self check-in hubs will alert staff via an instant message when a customer has arrived and what they're looking for.
The other focus for the new concept is to find more efficient ways to conduct small transactions and everyday banking needs. ATMs at the branch can give customers cash in any denomination, and new cash recyclers replace the traditional teller drawer to make processing transactions more efficient.
The Smart Branches were first piloted by BMO's U.S. arm in Chicago in 2015, and the locations in Alberta and Winnipeg bring the total in Canada to seven.
Kyle Barnett, head of North American physical channels at BMO, says the concept was brought to Canada because, like in the U.S., customers here have changing preferences when it comes to the ways they prefer to do their banking.
"This is an opportunity to realize customers are interacting with us in different ways," Barnett says. "We've done a lot of work on this, so we felt good about what we know about the customers, what their preferences are and felt [Smart Branches] would be a good thing to continue to test formats and the way we interact with customers."
Some of those changing preferences are related to mobile and online banking options, which have given customers the ability to do multiple tasks any time and anywhere it is convenient. However, Barnett points out that even things that have been around for longer, like ATMs and telephone banking, have had an impact on the way customers use bank branches today.
"The old model was that the whole branch was built around helping customers with transactions and handling cash," he says. "You think of 15 teller wickets set up and the infrastructure is built around those wickets, as well as securing deposits and withdrawals. As customers use other channels for some of these simple transactions, we realised that we can continue to evolve what that space looks like and how it is used."
BMO has also been investing in the skills of its staff. Bankers who greet anyone who enters the branch have cross-training so they can guide and educate customers on how to use the self-serve tech in the branch and online or mobile services after they leave. They can also have more in-depth conversations with greeters about financial needs and what products or services might be right for them. Overall, it all ladders up to BMO's focus on providing a top-tier customer experience.
"We want to be the bank that defines a great customer experience," Barnett says. "We've spent a lot of time thinking about how customers want to interact with BMO across every channel. We aspire to have great experiences across all touchpoints, whether it's the mobile app or online or in-branch, and we want to deliver a level of service that creates a lot of loyalty."
Barnett could not say how many Smart Branches the bank plans to open, but said it will be continuing to do so throughout the year, as well as monitor current locations for ways to further improve the experience, something he says has been going on since the original pilot in 2015. For example, the early Smart Branches in Chicago featured video tellers, something that isn't in the newly opened Canadian locations. Further, BMO is exploring other new branch formats, such as ones that make use of small retail footprints in different ways, or have the capabilities to bring in commercial partners and other divisions, such as wealth management.
"I don't think of the Smart Branch as a set of things," Barnett says. "It's a smaller environment and there's technology, sure, but we're exploring different ways to leverage those things and capabilities. Part of that is continuing to engage customers and get more feedback on how they're leveraging technology and other tools. I wouldn't say we've arrived, I'd say we're on a journey and continuing to evolve."