Cadillac Fairview readies third pop-up concept
The mall operator's CF Collective program will see Toronto's Eaton Centre host three local retailers for a limited time.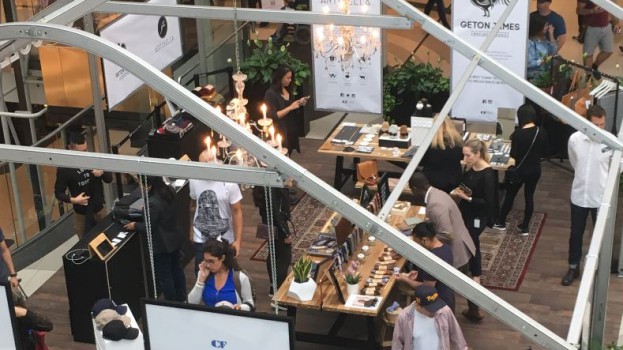 Cadillac Fairview is set to host the third installment of its CF Collective pop-up concept at Toronto's Eaton Centre, starting tomorrow.
The temporary retail experience is being held within the shopping mall's centre court from Aug. 2 through Aug. 5, and will feature three local businesses.
This year's program includes Ontario-grown plants and planters retailer Sonic Bloom, handmade t-shirt company Blackhare and hand-drawn cartography shop Cut Designs.
Launched as a pilot program in September last year, CF Collective serves to "incubate" local retailers that are not usually found in CF shopping centres, says Sheila Jennings, general manager at the Eaton Centre. The goal is to give the vendors the chance to connect with consumers in a new environment, with the idea that they may eventually transition into long-term tenants.
With this, CF has had some success in the past. Toronto jewellery boutique Armed opened a temporary location at Toronto's CF Sherway Gardens over the holidays last year after having been a featured vendor in a previous program.
"Pop-ups have created an opportunity for us to work with new, upcoming brands that, due to a number of factors, may not otherwise be able to enter one of our shopping centres," says Jennings. "The pop-up program allows these brands to test a market or a new concept, without committing to a long-term lease."
The mall operator aims to offer a mix of traditional retailers and "curated in-mall experiences," says Jennings, and the company believes its CF Collective program checks both boxes.
The two previous iterations of the program has seen the brand test different concepts at its Toronto properties, including a champagne bar at the Eaton Centre and a gourmet market at CF Shops at Don Mills (in partnership with culinary business The McEwan Group and the LCBO).
This year's installment is being promoted on its website, in stores and through boosted social media posts.
In recent months, CF has also been preparing to roll out its "Feel the Love" loyalty program, giving participating customers access to exclusive offers and in-mall experiences, into four additional shopping centres.