Miele unveils new Toronto flagship
The German appliance retailer's fifth Experience Centre is digital-focused and the first in a premium mall.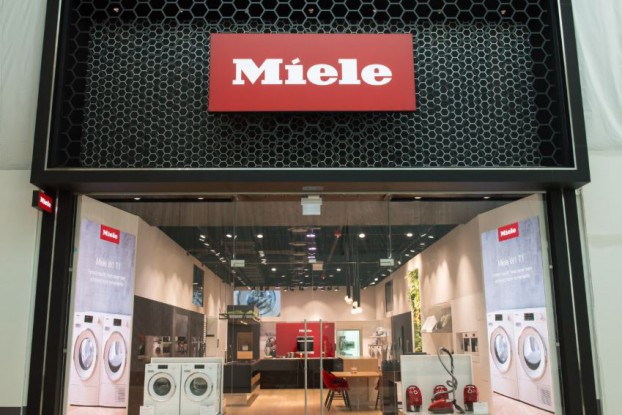 German premium appliances retailer Miele has launched a new design concept for its fifth Experience Centre in Canada, its first owned retail store in a premium shopping centre.
The new store, which opened its doors on July 28, is located within the heavily-trafficked Yorkdale Shopping Centre in Toronto, which receives about 18 million visitors per year, according to Miele.
The digital-first concept, developed by brand and retail consultancy Fitch, is focused on giving customers the opportunity of "experiencing the brand with all the senses," the company said in a press release. The store combines digital elements with product experiences and advice from Miele experts.
Cooking and baking demonstrations take place several times per day, and customers can sample items – from croissants to homemade soups – while in store. Five screens play ambient videos that change to reflect the time of day, while guests are invited to "linger" in a nearby lounge.
Additional digital elements help customers interact with products, from a swiping cooktop screen that enables virtual cooking and experimentation with Miele appliances, to a large screen display on what it calls the "M-Touch Wall," which shows full-size images of the product range and accompanying technologies. Also new to the concept is Miele's "Care Collection Consumables Wall" that informs visitors about its cleaning and care products through videos that are launched by scanning items.
Yves Dalcourt, president of Miele Canada, said he believes the partnership with Yorkdale will "make the Miele brand even more accessible to even more consumers."
Miele currently has four other Experiences Centres in Calgary, Montreal, Toronto and Vancouver, but all of them are large-scale showrooms on the outskirts of city centres.
It becomes the latest retailer to open shop at Yorkdale. Within the last year, others including apparel brand Roots and French beauty and fragrance company L'Occitane en Provence have sought to leverage the mall's premium offering.