Uniqlo goes mobile-first for ecommerce
Canadians will be able to shop an extended selection of the retailer's assortment from the app or mobile site.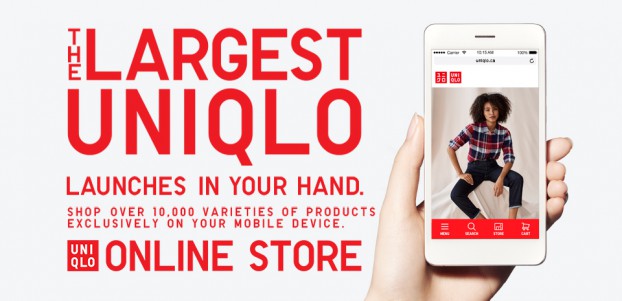 Uniqlo has finally brought ecommerce to Canadian customers, although the platform will be exclusively available via mobile devices.
Uniqlo currently has three stores in Vancouver and two in Toronto, with three more planned to open in the Greater Toronto Area and one more in Vancouver by this fall. In a press release announcing the launch of the platform, the company emphasized how an ecommerce offering would make its products available in "every corner of Canada."
"Since announcing the launch of our first store we've been inundated with requests for e-commerce from people across Canada and we are thrilled to be able to serve everyone now, especially locations where we do not have stores," said Yasuhiro Hayashi, COO of Uniqlo Canada, in the release.
Through the Uniqlo Canada app or by accessing its website on a mobile platform, customers can shop the retailer's full product assortment, including extended sizes, a selection of online exclusives and year-round access to seasonal items. That's in addition to other app functions, such as providing information on current and upcoming offers in-store and online, new product arrivals and in-store inventory.
There are also a number of perks to help drive online shopping. Purchases over $49.00 will be eligible for free shipping until August 19, and people who download the Uniqlo Canada app and register as a member will receive a $5 coupon that can be redeemed online or in-store. In addition, customers who purchase $50 or more in store will also receive $5 off their next purchase, either online or in-store.
Expanding its ecommerce offering has been a key business priority for Uniqlo globally. The company first brought online shopping to North America when a U.S. ecommerce platform launched in 2012. In Japan, it began offering a free click-and-collect shipping option in April.
The brand and parent company Fast Retailing have not broken out online sales for its international operations, but online sales in Japan (where it opened its first stores) grew by 33.1% in its most recent business quarter, accounting for 7.8% of total domestic revenue. Revenue in Japan was up 6.3% year-over-year in the most recent quarter, with a 23.7% increase in revenue for its international operations.