Lg2 invests in Biolux
The agency's first foray into funding a startup will also involve developing a CBD-infused beverage brand.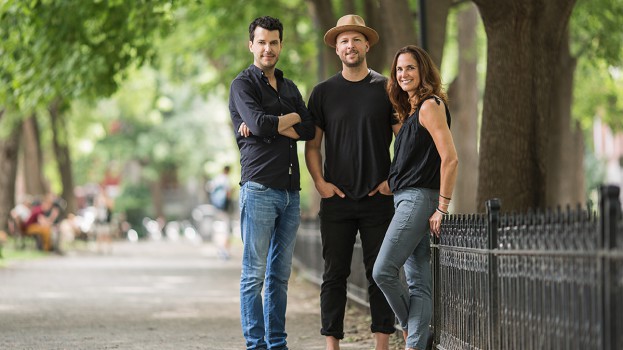 From left to right: Carlos Ponce, co-founder and CEO, Biolux; Marc Hébert, co-founder and chief commercial officer, Biolux; and Anne-Marie Leclair, partner and VP of strategy and innovation, Lg2.

Lg2 has made an investment into Montreal-based startup Biolux, and will also help to develop a brand identity, packaging and marketing strategy for the company's Ubu line of products.

Biolux is a company that is developing products with a focus on natural health and therapeutic benefits, including Ubu, a brand of CBD-infused beverage products. The health-focused drinks will also be free of sugar, caffeine and artificial sweeteners.

Biolux is targeting California – a region where cannabis-infused food and beverage products are currently legal for retail sale – for the launch of Ubu, with plans to bring it to the Canadian market at some point in the future.

Cannabis-infused food and beverage are not currently allowed for sale in Canada, and won't be following the Oct. 17 legalization date for recreational cannabis. The government has said it will re-examine edibles in 2019, saying it needs the extra year to determine how to best regulate what it has called a "more complex" part of the market. Despite that, several companies big and small have been making efforts to be ready for that market once it becomes legal, with startups attempting to get a foothold in U.S. markets first and multinational giants like Molson Coors establishing partnerships with licensed producers.

Lg2 could not disclose the exact size or amount of its investment, beyond the fact that it is "a significant investment for a startup like Biolux," according to Jean-Bernard Laguë, the agency's VP of finance. It is also the first investment Biolux has received in a potential series of others to come.

This is also the first time Lg2 has made an investment in a startup, an area the agency is looking to become increasingly active in. Last month, it announced a partnership with The OSMO Foundation, a Montreal-based incubator and startup-focused non-profit, to offer its services to companies the foundation supports.

For Lg2, the benefit of making an investment into Biolux and startups like it – as opposed to simply establishing a more traditional agency-client relationship – is that it gives the agency a stake in the company's success, and reflects its goals of diversifying its income sources, ensuring its sustainability and stimulate innovation, according to Laguë. For Biolux, he says it gives the young company access to marketing, communications and design services.