Petro-Canada invites you to 'Live by the Leaf'
The energy and gas company focuses on shared Canadian values in its first brand refresh in decades.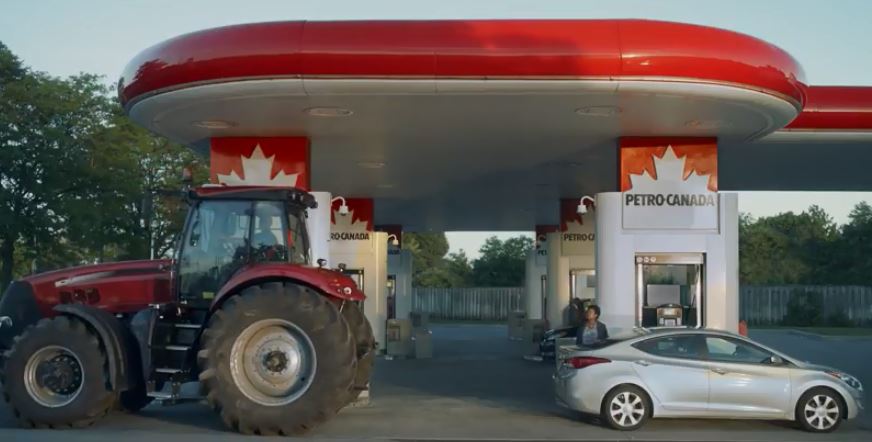 Suncor-owned Petro-Canada has unveiled a new platform inviting Canadians to "Live by the Leaf" as part of its first brand refresh in decades.

Strategically and creatively led by agency McCann, the platform includes new branding at Petro-Canada's more than 1,780 retail and wholesale locations, as well as an anthem video and shorter spots rolling out on TV, digital, social and a campaign microsite. Tam-Tam\TBWA oversaw the platform's "Fièrement d'ici" (meaning "proudly from here") adaption for the French market, with OMD on media.

The platform is meant to help Petro-Canada "move from a value brand to a brand with values," says Kristina Schaefer, director of Petro-Canada brand development. "We had to show Canadians that we are actually one of them, that we do share the same values, that we do have – and demonstrate every day – that Canadian pride."

The minute-long anthem spot takes an almost documentary-style approach to telling the stories of Canadians across the country, and finishes with the optimistic conclusion that "We share more than a country. We share a way to live."

The spot is being supported by 15-second videos that serve as the first expressions of "how we all live by the leaf," says Schaefer, adding that the ads utilize humour to make them more approachable. Each is a short vignette involving everyday people at Petro-Canada locations, including one of a man cobbling together a few words of French while paying in a Montreal store, and another of a man using the (polite) expression "just going to sneak right past ya" in order to get his bag of chips.

Future executions will likely include more anthem-inspired creative and tell stories related to how people are living that promise, according to Schaefer.

The platform's patriotic undertones are reminiscent of Chevrolet's 2017 "Canadian Dream" platform and campaign. The automaker's embrace of Canadian diversity and values stemmed in part from AOR McCann's "Truth About Canadians" study from the year before, which showed the extent to which Canadians across the country associated more closely with a set of values and attitudes than with things like age or ethnicity.

According to Schaefer, the insights from McCann's study also had an influence on Petro-Canada's new positioning.

The precipitous drop in Canadian oil prices during the Alberta recession several years ago was "a watershed moment in our history," says Schaefer. When that happens, she says, it's "always a great time to look at what you're doing and why you're doing it."

The original Petro-Canada crown corporation was founded in the mid-1970s before merging with Suncor in 2009, and hadn't undergone a refresh in close to 40 years, according to Schaefer. The company realized that it had a number of assets that it was "underutilizing," including its brand.

So around two years ago, it convened a strategic development group with the goal of developing a new brand purpose, says Schaefer. "It's a challenge, especially with an iconic brand such as ours, that has been in the marketplace for so many years without that kind of focus on it."

Looking back at company ads from the 1980s, Schaefer says the brand has always had purpose "but it didn't necessarily turn up in our advertising." She says Petro-Canada's most brand-focused work of recent years has been the campaigns revolving around its sponsorship of the Olympic and Paralympic teams during the 2014 Winter Games in Sochi and the 2016 Summer Games in Rio.

While the campaign has launched in a mass way, with the goal of reaching all Canadians, Petro-Canada is focused on "the next generation" and will be putting more emphasis on social and digital components as the platform unfolds.