Dempster's moves to masterbrand approach
The brand's new "Made By Canada" positioning attempts to re-establish a connection with consumers by showcasing its roots.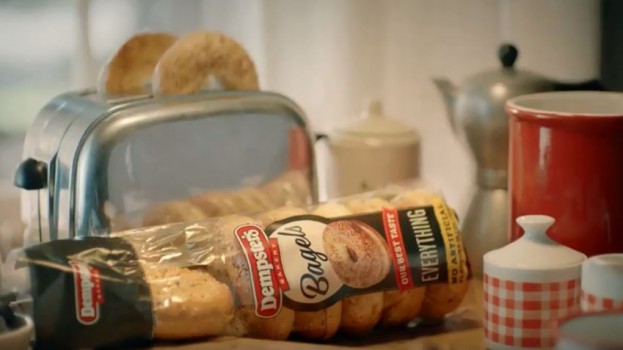 Dempster's has unveiled a new brand positioning and campaign, shifting its marketing away from a segment-driven strategy towards a more masterbrand approach.
The maker of baked goods kicked off the new "Made By Canada" positioning on Aug. 7 during an episode of The Amazing Race Canada. Falling within the show's "Canadian heroes" theme for its current season, the episode saw contestants fulfill food bank orders from a truck at the North York Harvest food bank in Toronto, with which the brand has partnered in the past.
A campaign spot called "Recipe" that began rolling out after the initial launch walks viewers through the various elements that go into making Dempster's products: namely, the land, the early-morning work, the water and sunlight, its bakeries and "everyday Canadian heroes." It serves as a reminder that Dempster's products are made with Canadian flour, harvested by Canadian farmers and baked locally.
It's the first time Dempster's has sponsored The Amazing Race, according to Tania Goecke, senior director of marketing at Canada Bread, who says the show's "heroes" theme aligned well with company's new positioning. Developed by agency Cundari, which was named AOR for Canada Bread's Dempster's, Pom and Bon Matin brands in August last year, the "Made By Canada" platform showcases the brand's Canadian roots and is about "being proud in a Canadian way," in the same way Dempster's is, says Goecke.
The video is being shared on TV in English Canada, online and on social media, with Starcom as the media agency.
Over the last five years, the brand had lost around five points in Canadian household penetration, according to Goecke. While the brand was familiar to Canadians, she says it "didn't necessarily stand for any one thing. We needed to re-establish that connection with consumers' minds and hearts in order to turn that penetration decline around."
After speaking with consumers, Dempster's learned that many people – millennials in particular – didn't even know the brand was Canadian. That became the "jumping off point" for the new positioning, says Goecke.
In the past, she says the company's marketing has been very segment-focused. It would promote hot dog and hamburger buns during the summer months, for example, and wheat bread during the back-to-school season.
"There were all these segment-specific messages that didn't ladder up to a masterbrand," she says. "Now this approach is driving a full masterbrand approach."
In addition to the campaign and The Amazing Race partnership, Dempster's is working with Food Banks Canada on a "Buy a Lunch, Give a Lunch" program that will run from Aug. 23 to Oct. 3. As part of the initiative, it will donate bread to those in need (up to a total of two million slices) each time a Dempster's product is purchased.
Last week, Petro-Canada revealed its first brand refresh in decades that puts a similar focus on its Canadian roots and values. Other brands have  stepped up efforts to showcase their Canadian support, including Walmart, whose summer campaign for its grocery selection highlighted products sourced from various regions across the country.