Tourisme Montreal lets its balls hang out
The city celebrates an iconic art installation to get visitors to come to the city during Pride.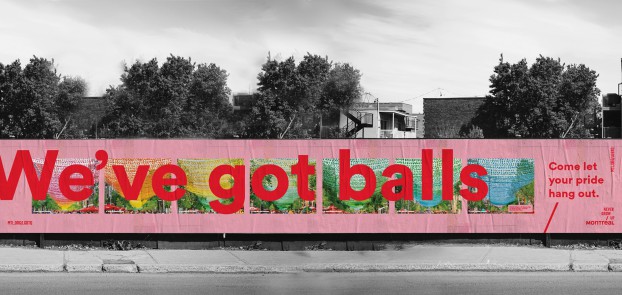 Montreal is in the midst of its annual Pride celebrations and so the city's tourism organization is paying tribute to what has become an iconic art piece, with a cheeky campaign that welcomes the LGBTQ community.
Since 2011, a one-kilometre stretch of Sainte-Catherine Street in Montreal's gay village has hosted "18 Shades of Gay," an art installation by Claude Cormier featuring hundreds of pink balls suspended in the air throughout the summer. Inspired by this, Tourisme Montreal and ad agency Lg2 created a series of ads showing the street, alongside lines like "we've got balls" and "let your Pride hang out."
Out-of-home ads were placed in TTC stations in Toronto, in bus shelters and billboards in New York and will soon be on digital screens in San Francisco – all cities where Pride celebrations have wrapped up for the year and members of the LGBT community may be considering some last-minute travel. A digital side of the campaign will place content next to other Montreal landmarks, such as the Orange Julep and Olympic Stadium.
The campaign is the latest in "Never Grow Up," a brand platform Tourism Montreal launched this year that is meant to attract the "young at heart" to the city by showing off its creativity and unique personality – although the phrase takes on a slightly different meaning when it appears next to a tagline like "We've Got Balls."
Like many other Pride-friendly cities aim to do, Montreal is looking to show off its open-mindedness and how it's a safe and welcoming place for the LGBTQ community. But Danièle Perron, VP of marketing at Tourisme Montréal, says the touch of humour in this campaign is a little more daring.
Marilou Aubin, digital creative director at Lg2, adds that it not only shows off the "bold and edgy personality" the agency has been trying to capture as part of "Never Grow Up," but it is also an invitation to discover new, more playful things about the city.