How a subscription grocery company is entering retail
Toronto's Fresh City Farms used data from its ecommerce store to choose its first "true" retail location.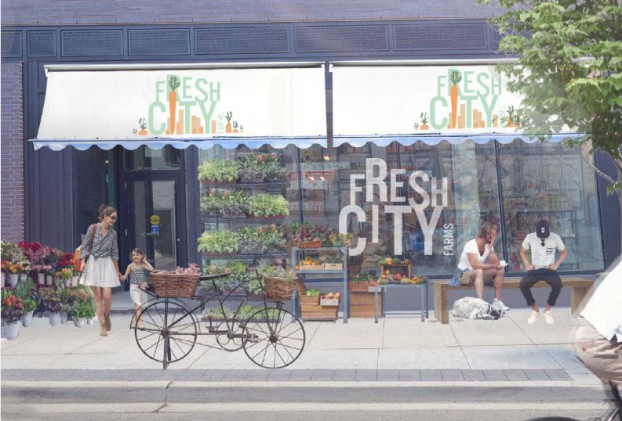 What began as a small-scale urban farm based in Toronto evolved into a produce and grocery delivery company, and now, into a business looking to open a series of bricks-and-mortar stores.
Fresh City Farms was founded in 2011 by CEO Ran Goel, a former investment lawyer-turned-entrepreneur who built a business around offering organic and local produce to customers in the Toronto area. The company would harvest products from greenhouse spaces within the city and deliver them to customers' doors under a subscription model.
Over the next five years, Goel says it became "more of a produce and grocery delivery company" carrying some 2,000 SKUs (everything from milk to bread and meat), adding that prepared meals, such as salads and soups served in mason jars, has become "a huge part of our business."
Today, Fresh City delivers to about 5,000 subscribers in the GTA, a region spanning from Hamilton to Scarborough to North York. Customers can purchase items on a one-time basis or as an ongoing subscription and have them either delivered or sent to one of several pickup hubs.
And now that the company has heard from customers eager to top up on their groceries in between bi-weekly, weekly, even twice-weekly deliveries, the fresh foods retailer is getting into bricks-and-mortar, believing its ecommerce presence will enable it to do so successfully.
Later this month, it will open its second physical retail location on Ossington Avenue in Toronto, not far from Trinity Bellwoods Park. Its existing retail shop on Roncesvalles Avenue is a small, 600-square-foot store it bought from one of its previous suppliers. Goel says the new location, at just under 2,000 square feet and carrying about 1,000 SKUs, will be the "first true store in the sense that we designed it ourselves and located it consciously."
He says the company plans to open about 10 to 20 new stores in the city's core over the next couple of years.
"We really see a big market opening for small-format, quality food retail located in neighbourhoods that are very walkable, where people really care about what they eat and identify themselves as a person who eats local or who eats natural foods," says Goel.
From its online operation, Fresh City has gleaned insights into where its customers are and what kind of products they're most interested in, according to the founder. In some neighbourhoods, prepared meals are most popular, while in others, it's produce that sells the most. There are also neighbourhoods, such as the area surrounding Toronto's St. Lawrence market, that are simply too competitive to have a viable retail shop.
The Ossington location was selected based on data showing a higher customer density in the area. Relative to the rest of Toronto, Goel says the area has attracted younger families, and that has translated into higher sales of prepared meals.
The company has been making reusable packaging a big part of its business (both online and in-store) by using jars and containers that can be easily returned. And the Ossington store will include an herb garden from which customers can harvest what they need, as well as an "ugly produce" section, in an effort to reduce food waste.
From the beginning, Goel says the company's "go-to-market strategy is really about making better food choices in every sense – for your own health, but also for the planet's health."
He argues that one challenge facing the category has been "greenwashing" from some retailers and CPG companies that claim their products are greener than they may actually be.
But his company's own biggest challenge will be "hitting a good value point for the Canadian consumer," he says. Local and organic foods tend to come at a premium. "For us, it's about finding that balance between providing a better option for the consumer, while ensuring that it's affordable as well." At the same time, he says he believes consumers (in Toronto, at least) have begun to appreciate the benefits of good food and are more willing to pay for it.