Hotels.com promotes wedding services with 'Chaplain Obvious'
The brand's long-running spokesperson gets ordained for its latest Twitter stunt.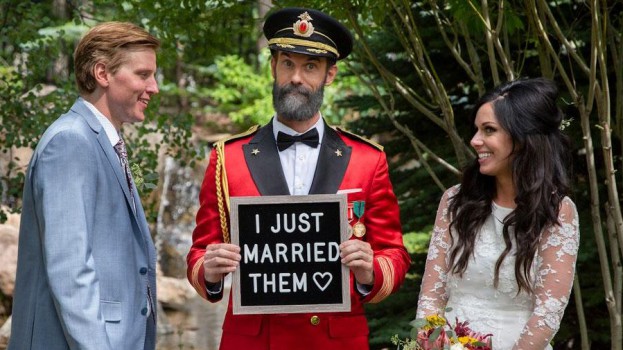 Bookings website Hotels.com continues to roll out quirky Twitter contests with the launch of a new campaign featuring "Chaplain Obvious."
No, that's not a typo.
To promote its range of wedding services, including group bookings and wedding registry, the brand is once again leaning on its Captain Obvious spokesperson, who, for the purposes of the campaign, has taken on the persona of Chaplain Obvious. In doing so, he became the first brand spokesperson to be ordained and to officiate a wedding, according to Hotels.com.
A campaign video shows the 'chaplain' marrying a couple in Vail, Colorado. It's being promoted alongside Twitter creative encouraging people to share their own wedding experiences using the hashtag #ChaplainObvious. Those who participate will be entered into a contest with the chance to win a $2,500 gift card for Hotels.com.
According to research conducted by One Poll in July and August of this year, more than 65% of Canadian millennials attended weddings that required overnight travel last year, and a quarter of them spent in excess of $300 on travel expenses alone. Those numbers are based on 2,000 Canadian respondents between the ages of 18 and 34 who have attended a wedding as an adult.
Just last week, Hotels.com ran a Twitter campaign around trying to name the August long weekend, which goes by different names in provinces and cities across the country. The brand has become known for running lighthearted campaigns on the social media platform, including last year's "Winter Swear Jar" and "Temp Captain" efforts.
Speaking to strategy last week, Katie Van, the company's director of North American brand creative, said the brand uses the platform "both for creative insights and its ability to really create personalized, real-time messaging."
Tell me about a wedding experience as unique as this one using #ChaplainObvious, and you'll have a chance to win a $2,500 @Hotelsdotcom gift card that will help you have more unique experiences.
Full rules: https://t.co/bnLWNMDAhG pic.twitter.com/bolvdk03Q5

— Captain Obvious (@CaptainObvious) August 14, 2018