Nordstrom launches first national Canadian campaign
The retailer emphasizes the cultural values that have made it feel welcome in the "True Nord."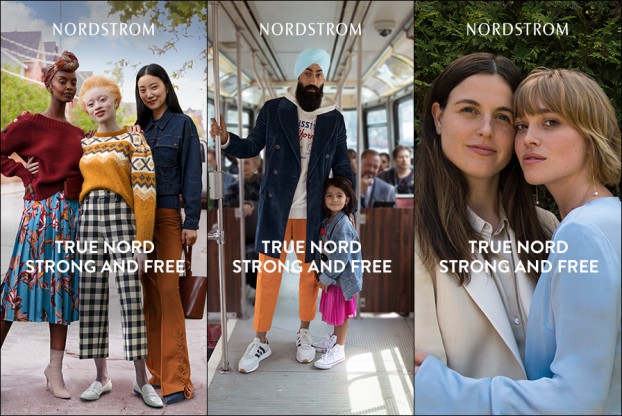 Nordstrom first opened its doors in Canada in 2014, and this week it has launched its first national campaign tailor-made for the market.
The campaign is dubbed "True Nord," combining English and French lyrics from the Canadian national anthem, with creative that emphasizes the values that make the country "strong and free." Videos in the campaign continue to play off the anthem's lyrics, with Nordstrom addressing Canadians and letting them know why the retailer is proud to call the country one of its homes.
The campaign was shot in and around the Greater Toronto Area, featuring 13 different Canadian personalities as models. They include Bag and a Beret blogger Mel Kobayashi, stylist and fashion consultant Harjas Singh, United Nations Goodwill Ambassador and trans activist Biko Beauttah, as well as model and The Canadian Curvies co-founder Yolanda May Largie. Profiles of the models are also being shared on Nordstrom's website.
Creative assets, shot by photographer and director Justin Tyler Close, are appearing in out-of-home, digital, pre-roll and social. There is also a TV spot, a first for the retailer in Canada, to bring mass reach to the campaign.
Nordstrom worked with Ogilvy on the campaign, the first since the two began working together last year.
In the videos, the narration very clearly attempts to position Nordstrom as an outsider. It is not attempting to make itself seem like a "Canadian company," but rather one that has been made to feel welcome here because of shared values it admires, especially when it comes to things like diversity and acceptance.
"We value the richness that diversity and culture bring to our communities and wanted to reflect the customers we serve," John Bailey, spokesperson for Nordstrom says about the creative. "We wanted to celebrate Canadians and their inclusive and welcoming spirit through the lens of individuality and personal style."
Nordstrom's internal marketing team previously worked with DDB to create some regional advertising in Canadian cities that helped promote the opening of new stores over the years, with most national work being part of North America-wide campaigns.
Bailey says the timing was right for the retailer's first national Canada-specific campaign, as its six main stores are now up and running, with plans to expand its off-price Nordstrom Rack banner with a total of six new locations in 2018. There are plans to continue Canadian advertising in the future, though Bailey did not offer further details.