GoodLife members share advice to their former selves
The fitness club's latest September push emphasizes the life-changing decisions of its members.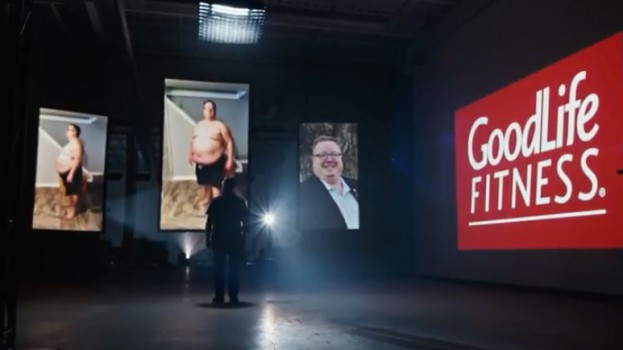 Many people could share stories with strangers or acquaintances about their life-changing decisions to join a gym. But rarely do gym-goers have the chance to reflect on  what they would tell their former selves, if ever they had that chance.

That premise is behind GoodLife Fitness' new national campaign led by creative agency Doug&Partners. Launched on Sept. 4, the "#ChangeYourStory" campaign includes 30-second television spots, social and radio executions, as well as long-form online videos that capture the unfiltered advice of GoodLife members speaking to their pre-gym-going selves. UM is handling the media buy.

The September launch is meant to coincide with the "unofficial new year" and to build momentum ahead of the busy post-holiday season, says Sharon Litwin, marketing director at GoodLife Fitness. In the past, the brand has run September campaigns that focused more broadly on passion (2017's "Live for It" campaign) and more on overcoming the obstacles to fitness (2016's "Best Yourself" effort).

In filming the latest assets, GoodLife Fitness members who had achieved significant results at the gym were invited into studio, having been told they would be sharing their stories with new members. What they did not realize is that, instead, they would be speaking to the persons they used to be before joining their clubs.

"With it being in our members words, we were able to showcase their results and showcase real people and make it feel like anybody can do this," says Litwin.

Before entering the studio, she says some of the members "hadn't looked back to celebrate their own success," which added an extra emotional touch to the spots.

The campaign creative emphasizes how physical activity comes with a range of benefits, from improved health to increased confidence and self-esteem. While that notion has become more widely known in recent years, Litwin says that from a marketing perspective, "it's something that needs to be played up more."

The fitness company has not experimented with testimonial style advertising in "many years," notes Litwin.

The decision to roll out the spots across 34 speciality networks ends GoodLife's three-year hiatus from television, according to Litwin. The buys on TV and radio are intended to reach its primary audience of consumers aged 25 to 54. Litwin says digital executions are meant to resonate with its secondary audience, those aged 18 to 34.

No matter how you look at it, Litwin says TV "harnesses that reach potential, has great impact and drives that top-of-mind consumer awareness." As a national brand, GoodLife is using the channel to reach a national audience.

Litwin says the brand expects to use the campaign for a few years, although a campaign microsite is encouraging other members to share their stories, and GoodLife will consider returning to studio to refresh creative if necessary.