YWCA turns the 'NSFW' acronym on its head
The non-profit's latest campaign on the impact of stereotyping and sexualized content includes an online reporting tool.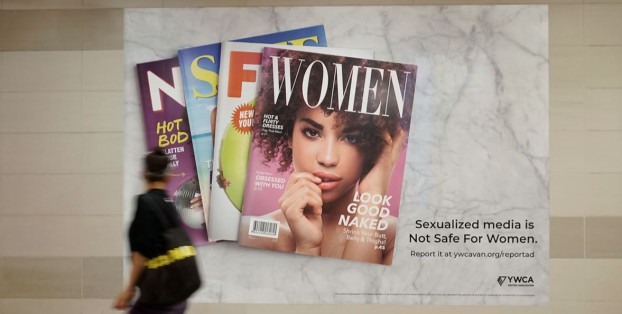 You're about to forward an email to a colleague containing content that is inappropriate for the office, so you play it "safe" and mark the subject line with a NSFW disclaimer to let the recipient know the message is "not safe for work."
It's an approach to sharing that can help make sure sexualized or violent messages don't meet unintended eyes (i.e. the boss'), but one that isn't really "safe" at all, according a new campaign by the YWCA Metro Vancouver charity.
To help bring attention to research showing the harmful impacts of popular media containing gender stereotypes, sexualized imagery and violence, the organization worked with Rethink to flip that NFSW acronym on its head.
In developing the campaign, the YWCA searched popular magazines for examples of real headlines that it feels perpetuates sexualization and gender stereotypes and positioned them alongside stock imagery reinforcing ideas "around how women should look, what makes a macho or manly man, and how teen girls should look and represent themselves," says Amy Juschka, acting director of marketing communications at YWCA Metro Vancouver.
The campaign launched Aug. 20 and will run until later this month, with the ads are appearing inside Vancouver skytrain stations and on Facebook and Instagram.
Using real headlines was intended to give people pause and to remind people of the content they regularly encounter in the media, says Juschka.
"Media that depicts gender stereotypes, violent media, it's not just not safe for work – it's not safe for women," says Juschka. That notion was taken further to show that the content is also unsafe to men and teens, with some ads reading "NSFM" and "NSFT."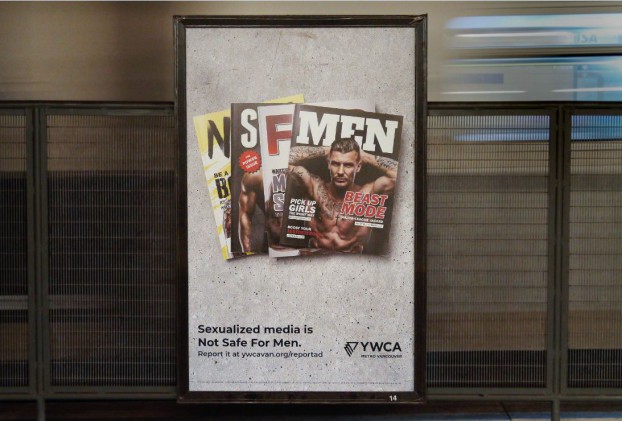 "Turning that abbreviation on its head could really demonstrate how the objectification of men, women and teens is harmful to everyone," says Juschka.
While this means the campaign's target audience is broad, Juschka admits that the NSFW disclaimer is not something everyone is familiar with and will likely resonate most strongly with "digital natives."
This year's campaign is part of a larger three-year YWCA project called the Culture Shift Project that aims to shift the attitudes and practices that the organization says perpetuates sexualization and hypermasculinization. A big part of the project has involved trying to educate people on the impacts of inappropriate content through research and other materials available on its website.
In addition to the campaign, the YWCA launched a new tool in the spring that encourages people to lodge complaints with Advertising Standards Canada and Canadian Broadcast Standards Council about content appearing in the media, regardless of channel. Juschka says it was developed and in response to YWCA community members feeling "helpless" when confronted with media deemed inappropriate.
"What we're trying to say with these ads is first, develop a critical eye, look at the media that you're consuming critically," she says. But then, you can also "take action" by reporting content to Ad Standards using its existing reporting mechanism.
Over the last few years, the non-profit's marketing efforts have included deploying disclaimer-style pre-roll ads ahead of music videos with content warnings and even launching a phony fashion brand called Blamé to bring awareness to the issue of blaming rape victims for their assaults.