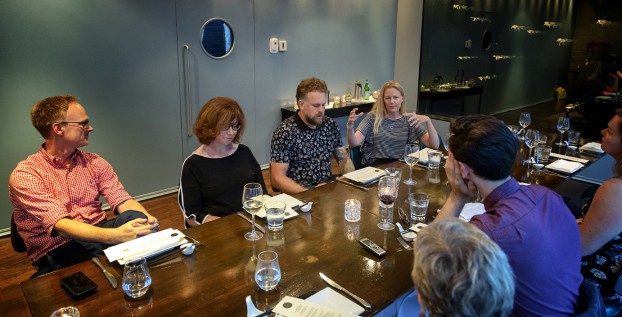 In just one week, the industry's top marketing minds will congregate in the King Edward Hotel to discuss and reflect on the changing role of the CMO.
Burning questions around what it takes to be in the front row of complex industry change will be tackled at the Marketing Evolution Summit (MES) on Sept. 20. Strategy gathered some of this year's speakers and advisory board members over a roundtable dinner to scratch the surface of where marketing is headed and how its preparing for the consumer landscape of tomorrow.
At the roundtable were MES advisory board co-chair Jason Chaney, CCO for Koho Financial; as well as board members Lori Davison, VP, brand strategy at SickKids Foundation; Emma Erickson, VP marketing at General Mills and Andrea Hunt, VP and GM for Weston Bakeries. They were also joined by MES speaker Axel Schwan, global CMO at Tim Hortons, as well as Ron Lund, president and CEO of the Association of Canadian Advertisers (ACS) and Jani Yates, president of Advertising Standards Canada (ASC).
The roundtable discussion was edited for clarity and space. Check back next week for part two.
How have you seen roles within the marketing department evolve in recent years? 
SickKids' Lori Davison: The one thing I observe more and more is the melding between the marketing role and the public relations role, with social media often being the centre of those two worlds. And I think a marketing lens is now at the table for issues management. I feel those worlds are never going to separate again, they are going to continue to become one thing. Future marketers need to be trained and to develop expertise in PR.
And the role of the CMO, how has that evolved?
General Mills' Emma Erickson: In the CPG world, you have some big slow-growth categories that [tend to cater to] the retailer and what they want, letting them drive the agenda. But our role is so important in keeping a consumer-first focus. It's very easy to slip into what Loblaw wants or Walmart wants – they know their consumers very well, but you still have to make sure that everything that your organization is doing is based around "How can we serve the consumer in the best possible way?"
So I think that growing people that are curious about human behaviour, and immersing themselves and having empathy for the consumer is super important – that's where it starts and ends. That's something our organization has embraced, but it's also a continuous challenge in today's business environment.
Jason, you obviously have a much smaller team, so how do you approach finding the next generation of marketers?
Koho's Jason Chaney: Yes, I have three people on my team. We're small now, but our growth will be pretty significant over the next year, so we're obviously still making plans for what the future of the group looks like.
There are opportunities to redefine what the marketing department looks like – do we build an internal agency, an internal creative department, or internal media buying capabilities? So we're grappling with a lot of those issues and establishing rules for the future of the company. Even though we are small, at our core we're designed to solve a consumer problem. And we constantly have to remind ourselves to inject humanity back into the equation and remain focused on how we need to serve consumers of the future.
What are some of the challenges CMOs today are working to overcome?
The ACA's Ron Lund: The notion of integration is one. How do you integrate marketing? You've got a $10 million advertising, digital and/or traditional media campaign. But then you have something that's going to be a social grassroots campaign that can take 50% of your time but only costs $200,000. Well, how can you integrate that? No offence to agencies, but they aren't necessarily equipped to be that integrated.
Erickson: Yes, the opportunities are endless. But oh my Lord, the amount of work that goes into making that consumer experience, it is definitely something that we are struggling with every day. How many of these campaigns can we actually do with the staff that we have, especially in today's environment. Obviously [General Mills] has restructured a couple times over the last few years, and we don't have the amount of staff that we used to have. So it's about leaning on agencies. And it might not be one agency that can handle it all. You need a roster of expertise. Strengths come in different areas, but you still need a coordinator to quarterback it all on the marketing side.
Chaney: I think we've got ourselves into a bit of a trap where we're trying to create value through volume and experience. And so, there's a desire to do all things when I don't think the opportunity is actually there. That happens both on an agency level and on a brand level. But when you ask the question, 'Well, why do you want to do that social campaign?' Nobody can answer the question aside from saying, 'Well, we're just kind of supposed to.' I think what I've really been trying to do is ignore those 'supposed tos' and do something really big and really great, and then the social side sort of takes care of itself.
Integration is interesting – if you look at it as a system and each piece has a purpose, then it's a lot easier to contain. I think when you get into the moment where you are just trying to create a ton of things and understanding how it feeds into a full system, then it becomes incredibly difficult to integrate and that's when you end up in a giant mess. It fragments your budget and then it becomes highly ineffective.
ASC's Jani Yates: It doesn't really matter about tactic, it has to be grounded in consumer focus. And that's what I observe occasionally. You see this brand new idea, and social media might be the influence, but you have to go back to the timeless principles of marketing – whatever the tactic, it has to be true to your brand. And that is really tough for CMOs because there is the pressure to be fully integrated and use the most current tools.
Tim Hortons' Axel Schwan: I fully agree. At the end of the day, you need to understand the [consumer]. There is the artistic side, and then there is the scientific side, where study, plan, and execute the marketing. You need to understand how to prioritize. I've worked for big and small brands and the money is never enough. The budgets are never big enough – so you better be smart.