Cerebral Palsy Association of Manitoba advocates from behind bars
The non-profit's first campaign saw a young man tell his story using a temporary cell.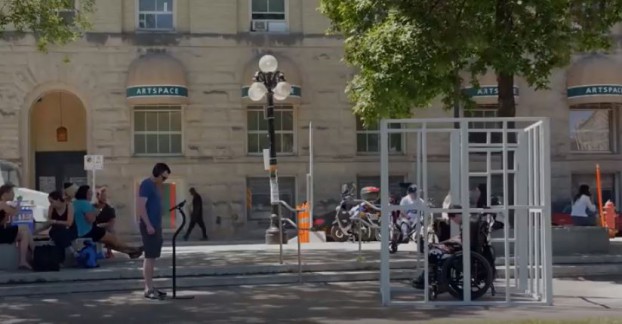 During an afternoon this past June, pedestrians crossing Winnipeg's Old Market Square encountered a young man in a wheelchair, trapped in what appeared to be a jail cell.
Those who approached could listen to his story from a pair of headphones mounted outside the cell: here was Tyson Sylvester, a 22-year-old disability advocate with cerebral palsy, who had locked himself up to demonstrate the failures of the disability system, which "blocks you from going in and out," much like a jail cell.
A video captured the reactions of those who stopped to listen or exchange words with Sylvester. It is being shared on social as part of the Cerebral Palsy Association of Manitoba's first marketing campaign, aimed at raising awareness and advocating for better services for adults with physical disabilities in the province.
In 2016, Sylvester and Amy Hampton, a non-verbal woman with cerebral palsy, filed a human rights complaint with the Public Interest Law Centre (which is part of Legal Aid Manitoba). They say the current system – in which many services for people with disabilities disappear after high school – is discriminatory.
Their attorney put the CPA of Manitoba in touch with UpHouse, a year-old creative agency in Winnipeg, which led on the campaign, according to David Kron, executive director of the association in Manitoba. He says the concept was designed to bring awareness to the cause, and Sylvester was "all into the idea" of placing himself behind bars.
According to Kron, the CPA of Manitoba – which consists of him and another part-time employee – had never worked with an agency before. Its annual marketing budget of $1,500 is typically spent on event-specific giveaways, like magnets or pins, instead of marketing campaigns.
For this first campaign, Kron wanted "to walk down that line so that people are a little uncomfortable, but not overly so."
Without much of a media spend behind it, the video has garnered more than 57,000 Facebook views in less than a week. Since the effort speaks to more than just people with cerebral palsy, touching anyone with a physical disability that isn't covered under existing programs, Kron says he has heard from other individuals and parents impacted by the current laws. And more than 1,500 people have signed a petition so far.
"The world can be a very isolating place for folks with disabilities, so this is just another way for them to connect as a community and tell the powers to be, hey, I matter too," he says.
Unlike other associations in Canada, the CPA doesn't fall under the oversight of a national body, according to Kron, meaning every chapter oversees its own marketing initiatives. With the goal of "keeping the momentum going," Kron says he hopes to work with other CPA bodies across the country to promote the campaign nationally.