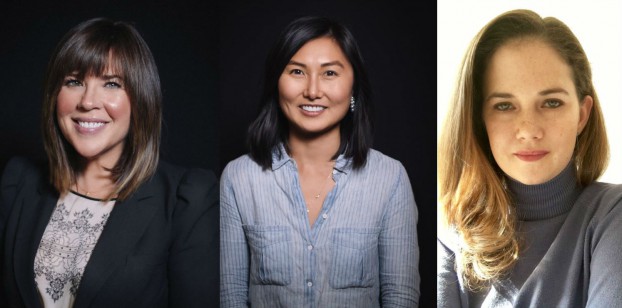 From left: Edelman's Joanna Wilson, EVP and national sector lead for health; Weiwei Su, strategic planner; and Leanne Denman, account director for investor relations and financial communications. 
Edelman has made three hires between its Montreal and Toronto offices, including Joanna Wilson as EVP and national sector lead for its health discipline.
Wilson rejoins the communications firm in Toronto after having spent the last several years leading National Public Relations' healthcare team. Before joining National, she spent more than a dozen years at Edelman, including as VP of its health practice.
During her career, she has worked with clients that include health and pharmaceutical companies GlaxoSmithKline, Johnson & Johnson, Pfizer Canada and Merck, as well as NGOs, such as the Canadian Partnership for Women and Children's Health, diabetes research group JDRF and The Lung Association.
Wilson's hiring is accompanied by the addition of Weiwei Su as a strategic planner in Toronto and Leanne Denman as an account director for investor relations and financial communications in Montreal.
Su has worked in strategic communications and marketing within the non-profit sector, having led strategic partnerships for the World Wildlife Fund and a corporate rebrand for Engineers Without Borders. For her part, Denman has served in account management roles with Cubitt Consulting and Taylor Rafferty in London, U.K., and an investor relations officer for United Arab Emirates oil company Dragon Oil.
Andrew Simon, Edelman Canada's chief creative officer, said in a statement that the firm has had "great success" in adding talent with "diverse, non-traditional backgrounds," as it looks to build out its service offering.
Earlier this year, the agency added Gaylene Macdonald and Jordan Markowski as VPs of digital, to help grow its expertise in digital marketing, customer experience and brand development. Macdonald leads Edelman's digital offering from the Vancouver office, while Markowski, based in Toronto, leads on digital for its brand and health practices.