2018 Strategy Awards: Getting people talking
A look at who won in the Social/Conversational Strategy and new Canada 150 category.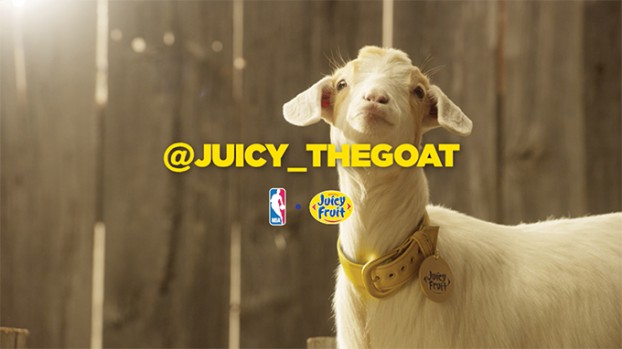 Earlier this month, the thinking and strategic planning that went into 25 Canadian campaigns was highlighted (and awarded fox-shaped trophies) at the Strategy Awards. Those agencies and brands were given the spotlight in print, with their winning cases published in the October issue of strategy magazine. This week, we're showcasing that work, a couple categories at a time. Watch your inbox for stories in StrategyDaily or check out the Strategy Awards link here to see all the cases as they're being rolled out.
Social/Conversational Strategy: Social was easier when it was a less cluttered canvas versus the current finding-a-needle-in-a-haystack odds of discovery. While their objectives couldn't be more different (getting people to be more polite vs. selling more gum), Go Transit and Juicy Fruits' strategies managed to beat the odds, creating shareable content to get Canadians to directly engage with their brands online.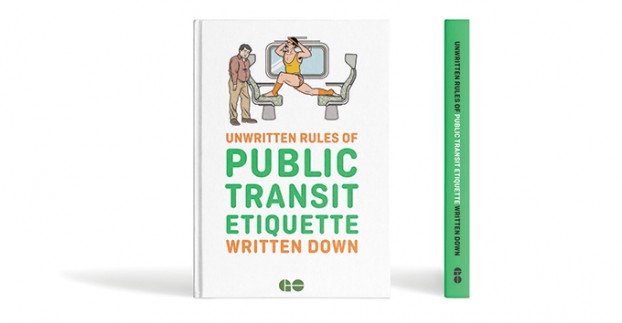 Book of #Fails a winner

The Wins: Social/Conversational Strategy, Silver

"Hell is other people." Anyone who has ever ridden public transit knows that common saying should actually be: Hell is riding public transit with other people.
Go Transit and DDB Canada aimed to turn more public transit riders from devils into angels with the launch of the The Unwritten Rules of Public Transit Etiquette Written Down in January 2018.
The book was the culmination of a campaign which started in 2016 to educate riders about transit etiquette, called "#EtiquetteFail."
This first phase resulted in a 36% drop in bad behavior, ranging from manspreading to feet on seats to nail clipping (really). Plus, complaints to GO's customer service centre dropped by 80%.
In 2017, DDB Canada built on that success with a $70,000 media budget. First, riders of the regional transit system were invited to submit their #EtiquetteFail stories. Then, through a series of online polls, riders actively provided content for what became a 100-page book.
The Unwritten Rules of Public Transit Etiquette Written Down was then introduced with a book launch at Union Station.
An e-book version was made available on a campaign microsite. And to drive continuous engagement with riders, parts of the book's content was used for social media. The campaign hit a nerve, gaining widespread media coverage, and the online poll became Twitter Canada's top 2017 poll.
The printed book sold out in a few hours, while after three weeks of going live, more than 10,000 e-books had been downloaded, exceeding the goal by 50%. Both paid and organic social media content consistently exceeded engagement rate benchmarks. #EtiquetteFail had 3,500 uses on Twitter, with 3.4 million users reached and 56.2 million impressions.
Talking about the riders being bad was good for the public transit service, with overwhelmingly positive social sentiment at 84%, increasing from 42%.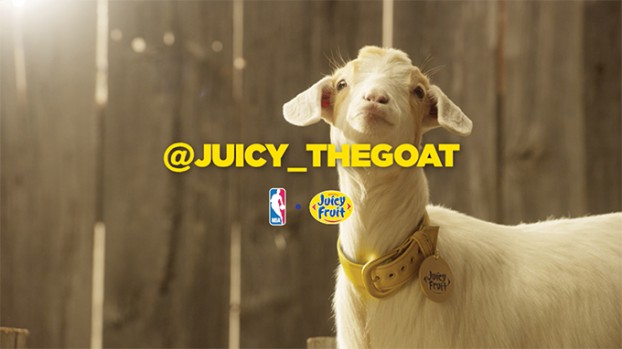 A G.O.A.T.-worthy gum ad
The Wins: Social/Conversational Strategy, Silver
Juicy the Goat chewed through online noise.
Gum sales have been falling for years, so Juicy Fruit wanted to make its existing partnership with the NBA and Toronto Raptors extra sticky online.
The Wrigley brand and agency Momentum realized NBA fans who were watching the game were also watching their phones. So they dove into the heated online debate about which basketball player is the Greatest of All Time (a.k.a. the G.O.A.T.).
The team then made an actual goat the mascot of "The Real #GOAT" campaign (because goats are always chewing things, plus they're infinitely GIF-able).
The campaign had Juicy head-butting into the #GOAT debate with fans: he intercepted conversations on Twitter and Insta, and hijacked online All-Star voting, claiming the votes as his own. During the regular season and playoffs, the buck engaged fans with memes, #goativational messages, and trash talk.
As Juicy became more recognized in the online NBA world, Raptors players and voices surrounding basketball culture interacted organically with Juicy, via shout-outs, retweets, and interactions online. To wrap up, the brand aired a TV spot with Delon Wright, who screamed for the Raptors alongside Juicy and solidified its new relevance for NBA and Raptors fans. Engagement rates doubled the industry average, at 5.2%, and the campaign achieved 97% positive sentiment. Oh, and Juicy Fruit sales rose 16%.
Canada 150 Strategy: Brands from coast-to-coast-to-coast were singing Happy Birthday last year, so standing out in the sea of maple syrup and cake was a unique challenge. Campaigns by The Salvation Army and Cleansheet rose up to not only unite Canadians, but call them to action, creating a deeper connection beyond wearing red-and-white on Canada's big day.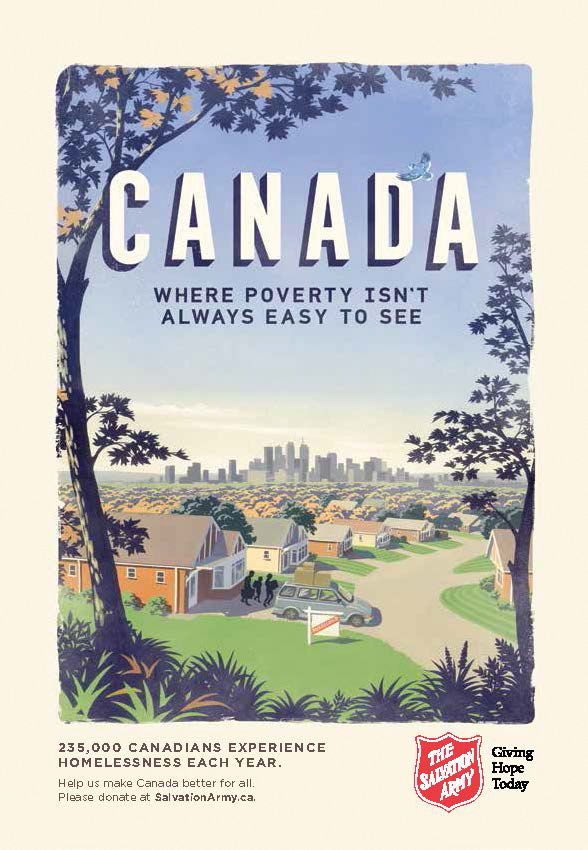 Donation-driving discoveries
The Wins: Social/Conversational Strategy, Bronze

Canadians like to brag, well, humblebrag, about the Great White North. But, Canada isn't so great for everyone.
The Salvation Army teamed up with Grey Canada on the "Canadian Discovery Tour" in a bid to get Canadians thinking about the struggles of others during the happy Canada 150 fanfare.
Research found Canadians are a proud people, often referencing how their home and native land is ranked as one of the best countries to live. That's true, but so if the fact that 1 in 5 Canadians skip meals to make ends meet, according to the Salvation Army.
The "Canadian Discovery Tour" set out to show this darker side of Canada via bright, retro-style tourism ads. One of the ads shows kids playing hockey surrounded by stunning snowcapped mountains, but off to the side there's a kid sitting alone on a bench. The copy of the ad reads: "Canada. Where Poverty Isn't Always Easy To See."
The series of ads opened Canadians' eyes to the poverty around them. The campaign also included a tour bus, where tourists and Canadians alike were shown the country's beauty, as well as its inequality. The reactions of passengers were filmed and shared on social, as well as used in radio ads. A virtual tour revealed the hidden poverty in communities across Canada. The film was shared over 5,000 times on social, generating 2.7 million video views. Website donations in July rose 106.3% year-over-year, while call centre donations grew 249.5%.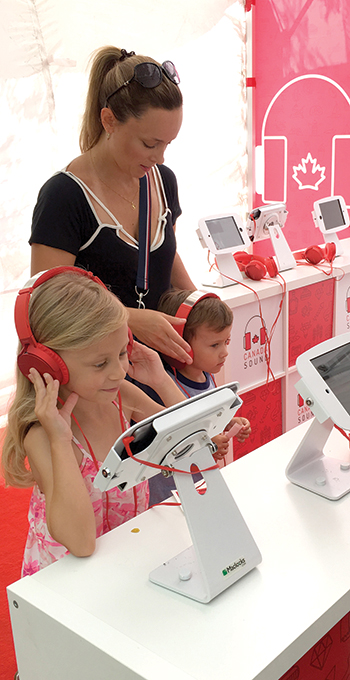 Crowdsourcing for Canada
The Wins: Social/Conversational Strategy, Bronze
What sound says Canada to you? The call of the loon is an iconic sound, but what about everyday sounds, like toonies and loonies jingling in your parka pocket?
Canada was caught up in sesquicentennial fever, so to stand out in sea of red-and-white ad campaigns, Cleansheet created a country-wide crowd-sourcing platform. It worked with a bevy of partners on the "CanadaSound" project to collect uniquely Canadian sounds and then have artists use them to create music.
CanadaSound.ca invited Canadians to submit their favourite sounds of Canada and draw inspiration from others' submissions. Next, the creative shop partnered with the JUNO Awards, CBC Music, the Society of Composers, Authors and Music Publishers of Canada (SOCAN) and Heritage Canada, to curate the sounds in the CanadaSoundbankTM, and made them available to artists, rights-free.
This large project had a small budget of $274,000, but the agency managed to get more than $2.9 million worth of pro bono time and media to get the word out.
To get Canadians to participate, experiential booths were set up to capture their sentiments about the country, while CBC Music promoted the project through podcasts and musician/CBC host Rich Terfry (a.k.a. Buck 65) created original tracks using the CanadaSoundbankTM each week. Specials aired nationally on CBC Radio and artists invited Canadians to collaborate via social media.
In all, 81 artists signed on and submissions ranged from a four-year-old to an 84-year-old. CanadaSound generated over seven million earned media impressions and weekly site visits averaged 140,000 each week.