Empire acquires Farm Boy
Sobey's owner will help the Ottawa grocer accelerate its growth plans as it continues on a transformation plan.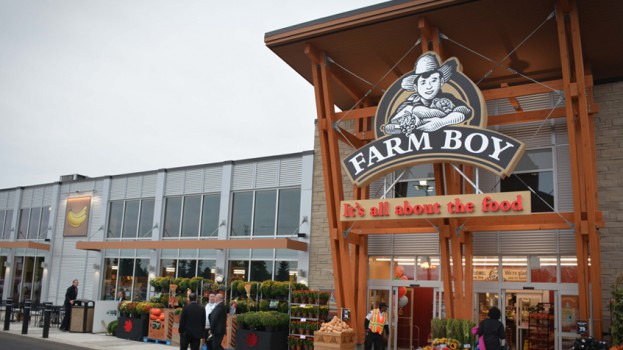 Empire Company, owner of grocery banners Sobey's and FreshCo, has reached an agreement to acquire grocer Farm Boy in a deal worth $800 million.

Jean-Louis Bellemare and Jeff York, Farm Boy's co-CEOs, will remain with the company and continue to run it as a separate business from the rest of Empire's operations.

Farm Boy's main priority following the acquisition will be to expand its retail footprint. Last year, Farm Boy revealed plans to open "10 to 15″ new locations by 2020 – the retailer currently has 26 locations spread across Ontario, with a 27th set to open next month in Oakville – but will now aim to "speed up" that growth (with an emphasis on the Greater Toronto Area) and double the size of its business within five years.

Founded in Ottawa in 1981, Farm Boy's focus is on fresh food and farm-to-table produce (though it is also stocks other grocery and CPG products under its own private label), with the retailer being compared to Whole Foods and Trader Joe's, a description York has previously put forward himself. Despite its popularity in the U.S., Trader Joe's has yet to expand to Canada, while Whole Foods currently has 14 Canadian locations.

For Farm Boy, having access to Empire's resources, infrastructure and experience will help it accelerate its growth agenda. For Empire, the acquisition will help to increase its presence in Ontario, a market where it is "under penetrated," the company said in a press release. Michael Medline, president and CEO of Empire, also cited Farm Boy's appeal within urban and suburban markets, loyalty among existing customers and industry leading growth numbers – same-store sales growth of 5.3% and five-year EBITDA compounded annual growth rate of 21% – as some of the strategic reasons behind the acquisition.

As part of the acquisition, Farm Boy private label products will also be made available on Sobey's ecommerce platform, set to launch in the GTA in 2020.

In the final quarter of 2017, Empire revealed "Project Sunrise," a three-year transformation plan to simplify its organizational structure and cut costs after several lacklustre quarters. In the company's Q1 2019 results, released earlier this month, Empire reported a same-store sales increase of 1.3% (excluding fuel) and profits of $95.6 million, up from $54 million the year prior.

"This is a great addition to our portfolio at a time when we are moving from defence to offence," said Medline. "As we continue to make excellent progress with Project Sunrise and emerge from the heavy-lifting phase, we are excited to advance our growth agenda with this powerful and proven concept."

Farm Boy also helps Empire flesh out its business portfolio at a time when it is has been particularly focused on taking advantage of the opportunity in discount grocery.

Last year, it announced plans to convert roughly one quarter of its 255 Safeway and Sobey's stores in Western Canada to its discount FreshCo banner, a category that represents roughly 40% of the food retail market (according to Nielsen) and where it is competing with the likes of No Frills, Real Canadian Superstore and Walmart. In its most recent financial results, Empire noted that the discount category was experiencing "relatively higher growth" than the rest of the food retailing business.