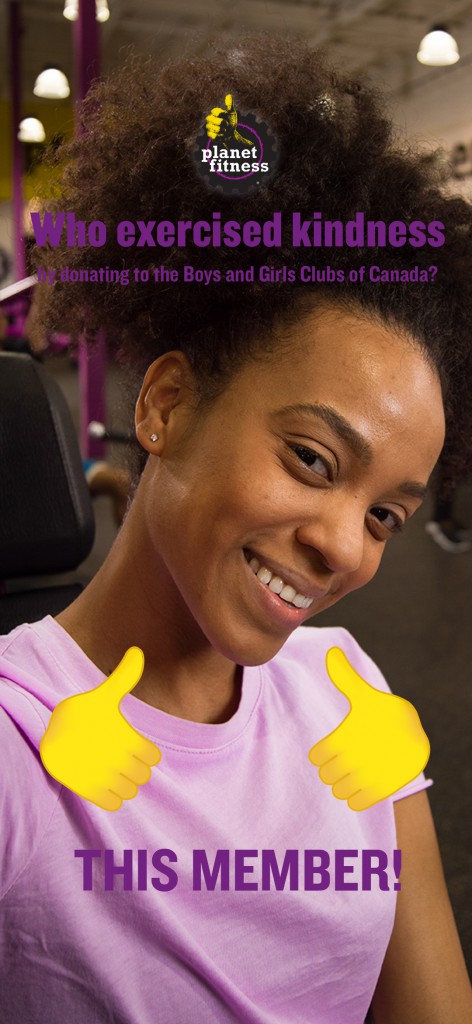 Every year since 2016, Planet Fitness has been running its Judgement Free Generation initiative, which aims to spur a cultural change to end the bullying and judgement faced by youth. Throughout September, the company has been raising money for Boys and Girls Clubs to advance that specific goal.
For this year's program, the fitness chain worked with agency Ruckus Digital to create a series of custom geo-filters on Snapchat that are activated only when someone is within one of the 26 Planet Fitness locations in Canada. The filters are partially a call to action, encouraging Canadians to donate to Boys and Girls Clubs, while also carrying the positive message of the gym's Judgement Free Generation CSR platform.
Dineen Boyle, corporate social responsibility manager at Planet Fitness says the chain was motivated to become more active on Snapchat based on the success its U.S. counterpart has seen on the platform. On top of that, its popularity with younger audiences makes it a particularly effective vehicle for the initiative's mission.
Boyle adds that while the cause itself already resonates with members, offering ways to engage and support it in-club have proven particularly effective, hence pursuing a way to amplify the campaign with location-specific tech and social media.
The initiative fits with Planet Fitness' broader brand positioning as being a "judgement free zone," a more accessible kind of fitness club that works to help members not feel intimidated by others who may be more advanced than they are.
"Our mission is to empower a generation to grow up contributing to a more judgement-free planet – a place where everyone feels accepted and like they belong," says Boyle. "Bullying has become an all-too-common issue in today's society. As the home of the 'Judgement Free Zone,' we are committed to addressing this."