Knix pairs with Rethink to highlight survivors
The campaign demonstrates the intimates brand and breast cancer foundation's shared message of inclusivity and health.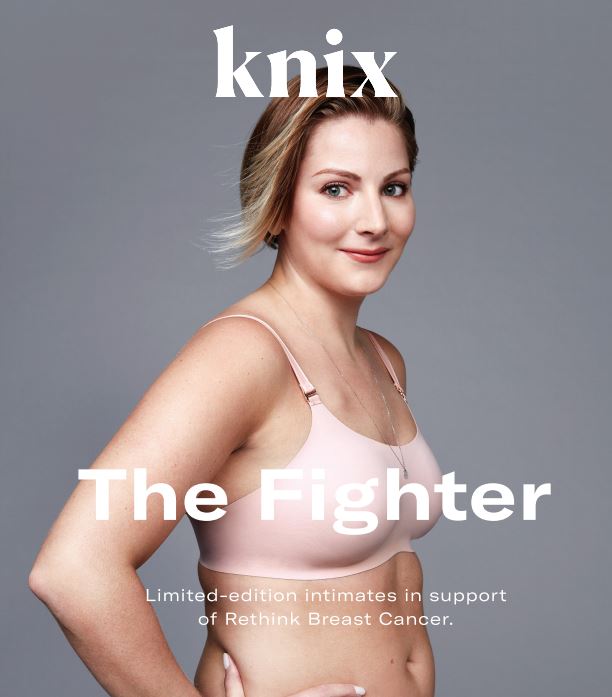 Intimates brand Knix has stepped up its storytelling efforts through a partnership with Rethink Breast Cancer.
The new campaign, released in time for Breast Cancer Awareness Month, features five women from the Rethink community who have unique breast cancer stories to tell. All are wearing Knix's line of bras and underwear and are featured prominently in the brand's creative (which is mainly being communicated through an OOH buy).
Knix founder Joanna Griffiths explained that both Knix and Rethink have always shared messages of inclusivity and diversity – Knix has been known to use women of numerous sizes, shapes and races in its campaigns, separating it from the likes of more conventional underwear brands, and talks about being "unapologetic and free about our bodies."
Non-profit Rethink has also embraced an "unapologetic" nature in its own branding: its 2016 "Give a Care" campaign featured gifts people could give women undergoing treatment for breast cancer, all with cheeky names: "My-mouth-is-dryer-than-prohibition water bottle" and "I'm-tired-dehydrated-and-cranky-so-don't-give-me-any-of-your lip balm."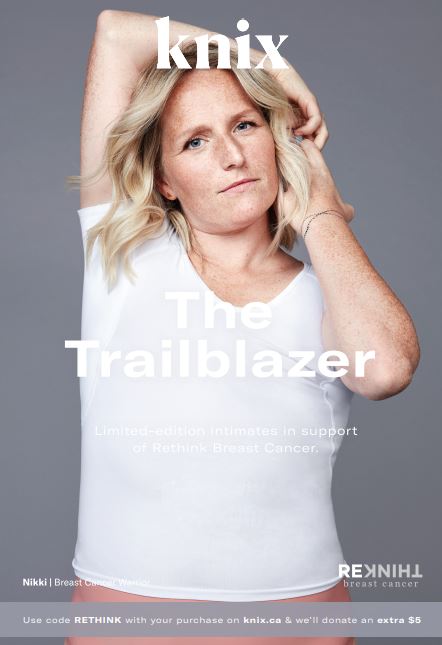 The participating women will be featured in large photographs wearing Knix products, each sporting their own tagline – "The Supermom" and "The Optimist," for example. The creative goes on to share a little more about each woman's experience with breast cancer. For instance, one woman, Inessa, already a mother of one, was diagnosed with breast cancer six weeks into her pregnancy.

"Their story is the campaign," said Griffiths. "Rethink is really built around community and the idea of supporting women who are going through a difficult time. With us, we've always loved to tell stories through most of our non-paid marketing, so this was a natural foray into that."

Griffiths said it wasn't always easy to get the creative the brand wanted – one woman who underwent a double mastectomy and opted out of reconstructive surgery could not be shot from the front showing her bare chest, so the brand had to adjust their vision. Nikki, the woman in question, was instead shot wearing a Knix T-shirt.

Breast health has always been a part of Knix's brand strategy, said Griffiths. Prior to its work with Rethink, it paired with North York General Hospital on an initiative that saw it donate a bra to any woman who had a breast-related surgery. Griffiths says it was a strong fit not only on a broader brand-building perspective but also from a practical standpoint.

"Women who have had breast surgery can't wear wired bras," she pointed out (Knix's bras don't contain underwire).

Rethink chose to focus on OOH for this campaign so that its creative could tell a more broader, brand-focused story. In the past, said Griffiths, its advertising has mostly been confined to in-feed social video, which demonstrated specific products. But since this campaign is focused largely on brand awareness and lift, Griffiths said a larger medium suited the creative.

"We want people to understand that there's a lot more to us as a brand," she said. "They'll see that we're rooted in inclusivity and women's health."

Shoppers who purchase a Knix product on its website can also use the code "RETHINK" to make a $5 donation to the non-profit.

Knix worked on creative in-house, with indie agency Co-Op assisting on the media buy.